Pope Francis' video for the upcoming World Day of Migrants and Refugees
Building the future together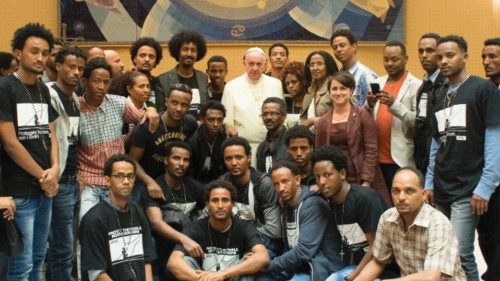 15 July 2022
It is important to appreciate the contribution that migrants and refugees provide to the socio-economic growth of the communities that welcome them, because promoting their talents allows members of the same communities to grow together as a society. The Holy Father emphasized this in a video released on Friday, 8 July, by the Migrants and Refugee Section of the Dicastery for Promoting Integral Human Development on the occasion of the anniversary of Francis' visit to Lampedusa on 8 July 2013.
The video, which is part of a series leading up to the 108th World Day of Migrants and Refugees (wdmr) to be held on 25 September, tells the story of Lucy Juah, a South Sudanese refugee currently living in Kenya. She is employed as a community outreach worker, and in her spare time she works as a seamstress and does tie-dye. Lucy also makes peanut butter and sells it to the Jesuit Refugee Services (JRS).
In a third video, the Pope asks a question that challenges everyone: "Theirs is a potential that is ready to be realized, if only we give them a chance. In your opinion, how can we foster the development of the potential of migrants and refugees?"
Everyone is invited to respond to this question by sending their answers, with a short video to media@migrants-refugees.va or by responding directly on the social media platforms of the Dicastery's Migrants and Refugees Section.
In order to prepare for the event, all campaign material is available on the website and can be freely downloaded, used and shared. The Migrants and Refugees Section will be happy to receive written or multimedia testimonies and photographs presenting the common commitment in living the theme chosen by Pope Francis for this year's wdmr : "Building the Future with Migrants and Refugees".
The new video is available in six languages: Italian, English, French, Spanish, Portuguese, German.