Vatican Secretary of State Cardinal Pietro Parolin in Africa
Peace, fraternity, joy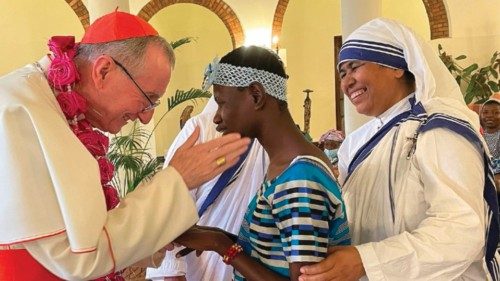 08 July 2022
"Peace, fraternity, joy". Those are the first three words Vatican Secretary of State Cardinal Pietro Parolin uttered during his homily at the Mass celebration for peace and reconciliation in Kinshasa, the capital of the Democratic Republic of the Congo, on Sunday, 3 July. Speaking in French, he listed "the greed for raw materials" and "the thirst for money and power" as primary obstacles to peace in the country, describing them as "an attack on the right to life and on people's peace of mind". Cardinal Parolin urged those present not to give in to "fatalistic resignation" but to take part in the process of rebuilding.
The Secretary of State travelled to Africa after Pope Francis postponed his Apostolic Journey to the DRC and South Sudan due to continuing problems with his knee. But the Cardinal clarified: "I do not come to substitute the Holy Father, but to anticipate his arrival among you".
Cardinal Parolin arrived in Kinshasa on Saturday, 2 July. He met with bishops, priests, religious sisters and the people they care for, among them the sick, the elderly, children, single mothers and teenagers. "The universal Church thanks you and encourages you to persevere in your work", he said to representatives of different religious congregations and organizations, "even at the cost of difficulty and apparent failures". He added, "In your daily life you experience how love, when it is shared, is not divided or spent, but multiplies and grows".
The Vatican Secretary of State also met with Congolese President Félix Tshisekedi. They spoke for nearly an hour, discussing the country's situation, especially with regards to security; and their concern about the violence in the Eastern regions. At this, President Tshisekedi expressed his desire for peace and stability, to which the Cardinal responded by assuring him of the Pope's closeness and reaffirming the Holy See's commitment to promoting paths of development and peace.
The Secretary of State left the Democratic Republic of the Congo on 4 July and spent the night in Addis Abeba, Ethiopia, before arriving in South Sudan on Tuesday morning, 5 July. Upon his arrival in Juba, he was greeted by a colourfully clad crowd singing and playing percussion instruments and holding up a banner with the words, "Welcome in South Sudan". Waiting for him on the tarmac were the apostolic nuncio, Hubertus Matheus Maria van Megen; Cardinal Gabriel Zubeir Wako, Archbishop emeritus of Khartoum; and a number of bishops, among them Christian Carlassare, the missionary Bishop of Rumbek who was shot in 2021 about one month after Pope Francis appointed him to lead the Diocese of Rumbek, which had not had a bishop for nearly a decade.
Speaking to local journalists outside the airport, Cardinal Parolin said, "It is a great joy for me to be here for a few days, to celebrate, pray and meet people" and to do so "in Pope Francis' name, who is always concerned about peace and reconciliation in South Sudan".
In South Sudan, Cardinal Parolin met with President Salva Kiir Mayardit and then with Vice President Riek Machar. Both conversations addressed the Revitalised Peace agreement. With general elections coming up in 2023, the Cardinal pointed to various steps for the government to take, including promoting national unity, stabilising the country and introducing reforms to the Constitution.
On 6 July, Cardinal Parolin paid a visit to a camp for internally displaced persons in Bentiu, in the northern part of South Sudan, where he was welcomed with joy and singing. He assured the men, women and children there of the Pope's desire to visit them as soon as he recovers. He also thanked them for their kindness, saying, "I am happy to be here, to share your faith, your joy. You are truly good Christians, good Catholics!".
On Thursday, 7 July, the Cardinal celebrated Mass at John Garang Mausoleum Park in Juba, attended by some 15,000 people, among them President Salva Kiir. The Secretary of State reiterated the need for peace, saying that "the evil of the world is not overcome with the weapons of the world" and that "peace is not obtained with war".