A new Vatican magazine 'written with the poor'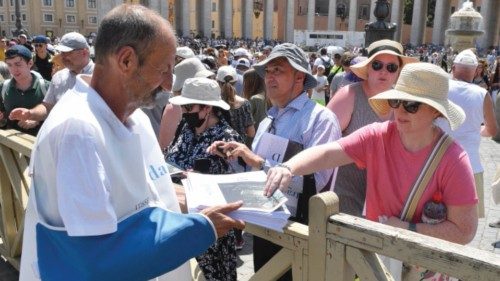 01 July 2022
After the Angelus Prayer, Pope Francis invited the faithful gathered in Saint Peter's Square to accept a copy of the first edition of L'Osservatore di Strada (literally the Street Observer). This monthly newspaper by L'Osservatore Romano was distributed by volunteers in the Square to anyone interested, for free. It has the aim of giving voice to the poor and to the marginalised, and has sections dedicated to art, to stories and to the opinions of those whose stories and voices are often not heard, or even ignored.
Mr Piero Di Domenicantonio, the paper's coordinator, along with Mr Andrea Monda, Editor-in-Chief of L'Osservatore Romano, presented the project to the Holy Father.
The monthly newspaper will be published on the first Sunday of each month, both in print and online. The distribution of hard copies will take place every Sunday in and around St Peter's Square, after the Pope's Angelus.
Through the help of experts, the poor will be given a chance to contribute, so that everyone can be on the same level, given the same dignity and the same respect.