Holy Father's prayer intention for the month of June
Family love: vocation and a path to holiness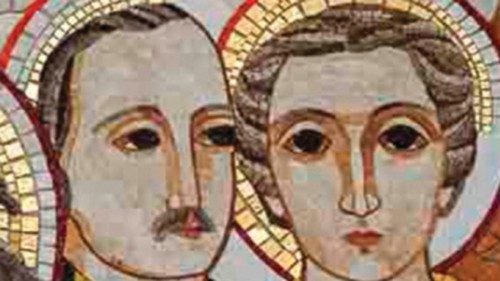 10 June 2022
"Let us pray for Christian families around the world; may each and every family embody and experience unconditional love and advance in holiness in their daily lives".
Pope Francis made this invitation to Catholics in his prayer intention video for the month of June.
In his video message, the Pope affirms that "the family is the place where we learn to live with one another, to live with young people and with those who are older. And by being united — young people, the elderly, adults, children —, by being united in our differences, we evangelize with our example of life".
The Holy Father also noted that perfect families don't exist, but that this doesn't matter, and that "we shouldn't be afraid of mistakes" but rather "learn from them so we can move forward". He urged the faithful to not forget that God is always present, no matter the situation: "when we argue, when we suffer, when we're joyful, the Lord is there and accompanies us".
Fr. Frédéric Fornos, SJ, International Director of the Pope's Worldwide Prayer Network, which produces the Pope Video, explained that "encountering people who are different", which also happens in the family, "is a richness, not a threat".
This month's prayer intention coincides with the celebration of the World Meeting of Families taking place from 22 to 26 June in Rome.
Available online at www.thepopevideo.org and translated into 23 languages, the video was created and produced by the Pope's Worldwide Prayer Network in cooperation with La Machi Agency and the Dicastery for Communication.
A press conference to announce details of next month's World Meeting of Families which will take place in Rome from 22-26 June, was held on Tuesday 31 May, at the Holy See Press Office.
Among those participating in the briefing was Professor Gabriella Gambino, Undersecretary at the Dicastery for Laity, Family and Life.
Despite delays due to the Covid-19 pandemic, Prof. Gambino said that the dioceses in Rome and around the world were gearing up for the upcoming X World Meeting of Families.
The Meeting, which has as its theme, "Family love: vocation and a path to holiness", will open on Wednesday, 22 June, with the Festival of Families in the presence of Pope Francis in the Paul VI Hall.
From Thursday 23 to Saturday 25 June there will be the Pastoral Congress, which will also take place in the Paul VI Hall.
On Saturday afternoon there will be Mass in Saint Peter's Square presided over by the Pope, and on Sunday there will be the Angelus.
The aim, she continued, "is to develop the theme chosen by the Pope, taking into account some strong indications emerging from Amoris Laetitia, a text that presents itself with very clear programmatic lines for the possible developments of family pastoral care in the coming years".
Announcing details of the Pastoral Congress, Prof. Gambino said it would be unlike those of previous editions. She explained that it will not have academically structured conferences with theological-doctrinal content, but will be a moment of meeting and listening.
The Congress will be built around five main conferences on a number of fundamental themes, such as difficulties of families in today's societies; the preparation of couples for married life; and some situations of 'existential periphery' within families.
The Festival will also feature testimonies from families, as well as performances from artists. This World Meeting of Families will be an international event that will strive to welcome families from poorer nations. There will also be representation from Ukraine.
In a letter read out during the press conference, the Pope's Vicar General for the Diocese of Rome, Cardinal Angelo de Donatis, wrote that the first married couple to be declared Blessed, Luigi and Maria Beltrame Quattrocchi will be the patrons of the X World Meeting of Families.