Blood and terror during Mass in Nigeria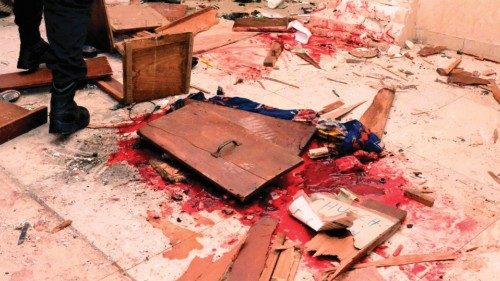 10 June 2022
On Sunday, 5 June, gunmen with explosives stormed into a church and opened fire killing dozens of Catholic faithful gathered for Pentecost Sunday Mass at Saint Francis Xavier Parish in Owo, Nigeria. Ondo state authorities reported that at least 40 people were killed and over 50 wounded.
The deadly attack drew swift condemnation from both Church and civil authorities, and the Nigerian government has vowed to go after the perpetrators. In a statement released following the attack, Archbishop-elect Lucius Ugorji, President of the Catholic Bishops' Conference of Nigeria, said that "nowhere seems to be safe again in our country; not even the sacred precincts of a Church", and urged the government to hunt down the perpetrators and "bring them to book". "If the government fails to act decisively on such a grave matter", he added, "it would be encouraging the descent of anarchy on our nation". He goes on to say that the government "should rise to its primary responsibility of securing the life and property of its citizens".
The Owo church attack comes one week after another church tragedy, when 31 people were killed and others injured during a stampede at a church event in the southeastern Nigerian city of Port Harcourt.