Cardinal John Onaiyekan and Bishop Jude Arogundade on the tragedy
A nation in shock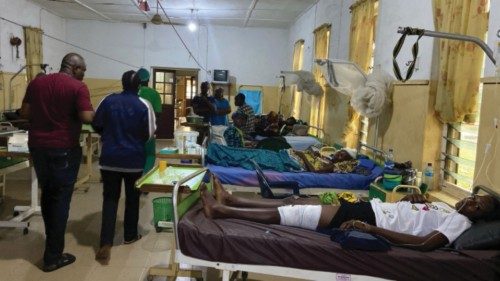 10 June 2022
Cardinal John Olorunfemi Onaiyekan, Archbishop emeritus of Abuja, and Bishop Jude Arogundade of Ondo, commented on the devastating attack against the Christian community of Owo, Nigeria, that took place on Sunday, 5 June.
Speaking to Vatican Media, the Cardinal said, "Everywhere you look, Nigeria is shocked and condemns what has happened. It is not the first time that armed people attack innocent people, killing. It's not the first time. But this particular one", he said, "on the feast of Pentecost was particularly shocking. Up till now", he explained, "we haven't heard of any group in Nigeria that has supported or defended what happened", adding, "In fact, efforts are being made that we should avoid what they call profiling, we should avoid saying this is Fulani Muslims killing Catholic Christians. But", he pointed out, "when you attack a church on Sunday, you practically cannot avoid people having a sense or feeling that this attack was because we are Christians". He continued, "Whether that is their reason or not, that has been the result of this kind of attack. It doesn't help in the efforts we are making for Christian-Muslim good relations in Nigeria". The Cardinal assures that this attack will not stop their efforts, "which will continue because we know that is the only solution to the problem, that Christians and Muslims must join hands and face these criminals".
There is continued speculation regarding the identity of the perpetrators, whose identity remains unknown. "Eyewitnesses have said that they were Muslim herdsmen", says Cardinal Onaiyekan. "But the government and the civil authorities said we should not rush to conclusions. We should wait for their investigation until they arrive at being able to identify who exactly did it. We are waiting, but we don't want to wait forever".
In a separate interview with Vatican News, Bishop Jude Arogundade of Ondo echoed the Cardinal's shock upon hearing news of the attack. "My first sentiment was utter disbelief... How can a human being do this?! Where is this coming from?!", he wondered. The Bishop also expressed his gratitude for the messages of closeness that have been sent to the shaken community of Owo. He was especially grateful for the Pope's telegram assuring the community of his prayers.
The Bishop shared his confidence that tragedies like this one will not have the last word. "For some people who think that they want to match our goodness with their own evil", he said, "they shouldn't forget that good will always triumph; the light will always triumph over the darkness". Reflecting on the profound faith of the Owo community, he said, "We will get over this. This is a stage. This, too, shall pass", and added, "And we will have a stronger Church, a better Church, a more beautiful Church, a Church that the world can be proud of".