Condolences following the death of Fra' Marco Luzzago
A faithful son of the Church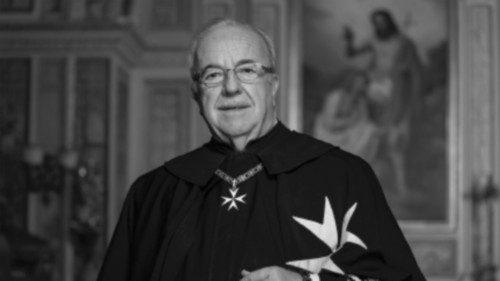 10 June 2022
On Thursday, 8 June, Pope Francis sent a telegram of condolences for the death of Fra' Marco Luzzago, Lieutenant of the Grand Master of the Sovereign Order of Malta, who, according to the Order's Grand Magistry, passed away at Villa Ciccolini in Sforzacosta, Macerata, Italy, on Wednesday, 7 June, following a sudden illness.
In the telegram addressed to Cardinal Silvano Maria Tomasi, the Pope's delegate for the Order, the Holy Father extends his condolences to the late Lieutenant's "family and to all members of the Order", remembering "the commitment he generously gave in carrying out his high office in the service of this institution, as well as his love for the Church and luminous Christian witness". The Pope signs off with a blessing to Cardinal Tomasi; the new Acting Lieutenant, Fra' Ruy Gonçalo do Valle Peixoto; the Grand Magistry; and all members of the Sovereign Order of Malta.
In a separate telegram addressed to Fra' Ruy Gonçalo do Valle Peixoto, who will replace Fra' Marco Luzzago as interim Lieutenant until a new Grand Master is elected, Vatican Secretary of State Cardinal Pietro Parolin expressed his own heartfelt "participation in the deep grief" of the Order and assured them of his prayers for "such a faithful son of the Church, who knew how to do his utmost with generous commitment for the promotion of perennial Christian values".
Fra' Marco Luzzago was born in Brescia, Italy, in 1950. He studied medicine at the Universities of Padua and Parma. He joined the Sovereign Order of Malta in 1975 and took his solemn religious vows in 2003. He participated in many of the Order's national and international pilgrimages, to Loreto, Assisi and Lourdes. From 2010, he dedicated himself completely to the Order, moving to the Marches to care for one of its Commanderies. From 2011, he was Commander of Justice in the Grand Priory of Rome, where he was Delegate of the Northern Marche region and head of the library. Fra' Marco Luzzago was Councillor of the Order of Malta's Italian Association between 2017 and 2020. He was elected head of the Order on 8 November 2020.
The Sovereign Order of Malta has been a lay religious order of the Catholic Church since 1113. It maintains diplomatic relations with more than 100 states and the European Union, and permanent observer status at the United Nations. Neutral, impartial and apolitical, it carries out its mission of upholding human dignity and caring for people in need through medical, social and humanitarian initiatives in 120 countries.