Celebrating Her Majesty Queen Elizabeth II's Platinum Jubilee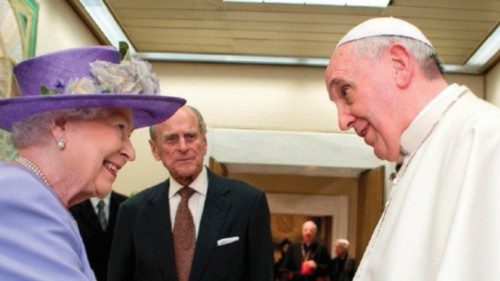 03 June 2022
Pope Francis sent his best wishes to Queen Elizabeth II for her birthday and the 70th anniversary of her accession to the throne. The message sent on 2 June echoes that of a letter the Holy Father had sent to the Queen on 29 March on the occasion of the Platinum Jubilee Year.
In that letter, the Pope expressed his appreciation for the Queen's "persevering and steadfast service to the good of the nation, the advancement of its people, and the preservation of its illustrious spiritual, cultural and political heritage".
He accompanied the letter with another special gift for the Queen. To show his appreciation for her "commitment to the care of God's creation", he donated a Cedar of Lebanon to the Queen's Green Canopy initiative, which encourages people from across the United Kingdom to plant a tree for the Jubilee celebration. The project will also dedicate a network of 70 ancient woodlands across the United Kingdom and identify 70 ancient trees to commemorate Her Majesty's 70 years of service. The Cedar of Lebanon, the Pope explains in his letter, "in the Bible symbolises the flourishing of fortitude, justice and prosperity".
A four-day UK bank holiday from 2 to 5 June marks the celebration's culmination. The events kicked off with the Queen's birthday parade on Thursday, 2 June. On Friday evening, 3 June, a Service of Thanksgiving for the Queen's reign at Saint Paul's Cathedral is scheduled. On Saturday, 4 June, Her Majesty and other members of the Royal Family will attend the Derby at Epsom Downs. After the Derby, some 22,000 people are expected to attend the Platinum Party at Buckingham Palace, which will feature international musicians. The four-day celebration will conclude on Sunday, 5 June, with the Platinum Jubilee Pageant to pay tribute to the Queen.
Queen Elizabeth II acceded to the throne when she was 25 years old. On 6 February 2022, she became the first British Monarch to celebrate a Platinum Jubilee.