Second edition of Athletica Vaticana's track meet of inclusivity
We Run Together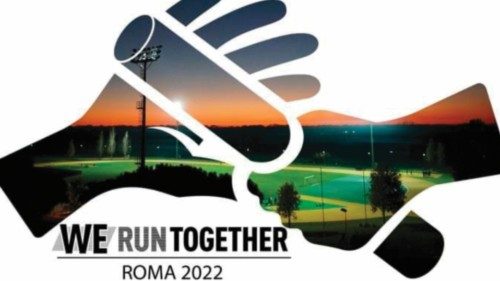 27 May 2022
On Tuesday, 24 May, the second edition of the "We Run Together" meeting was held at a sports centre in Castelporziano, near Rome. The event, organized by Athletica Vaticana, Fiamme Gialle and the Lazio region's Italian Athletics Federation, gathered athletes, prison inmates, migrants and refugees, individuals with Down syndrome and autism, women who have suffered domestic violence, and ambassadors to the Holy See for non-competitive 4x400m relays. Each baton pass became a concrete symbol of fraternity and friendship, bridging the gap that keeps countless people in the margins of society, and reaffirming what Pope Francis has so often reiterated: that "sports is a privileged area […] where we can experience the joy of competing to reach a goal together, participating in a team, where success or defeat is shared and overcome" (Letter to Cardinal Farrell, 1 June 2018).
Among teams representing migrants and refugees were men and women from Centro Astalli, the headquarters of the Jesuit Refugee Service in Rome. Valentina and Anastacia from Ukraine, Rahama from Kenya and Nathalie from El Salvador made up the women's team. The men's team was composed of Ali, Abdoul, Rami and Mohammed, who arrived in Italy as unaccompanied minors. For them, the "We Run Together" 4x400 was more than just a race. It was an experience of belonging to a team, of no longer walking alone.
At the starting line was also Massimiliano Zannini, a Special Olympics athlete with a developmental disorder who, at the beginning of his sports career, couldn't even manage to stay in his own lane for the 100 meter sprint. Today he breezes through 400m hurdles, overcoming stereotypes and prejudices.
Returning for the event's second edition was a team from the Rebibbia women's prison in Rome. A group of them participated in the first "We Run Together" Meeting in September 2021. For those women, being able to run alongside people with disabilities, migrants and refugees, priests and volunteers from various organizations, was an opportunity to be an active part of a collective, and a reminder of the ultimate goal of re-joining society.
This gathering of people from every part of the social spectrum, brought together by a shared love for sports, was a moment of encounter that, on a level playing field, rekindled a desire for teamwork, inclusion and fraternity.