Sarah, Theodora and Syncletica, mothers of Egyptian monasticism
Women of God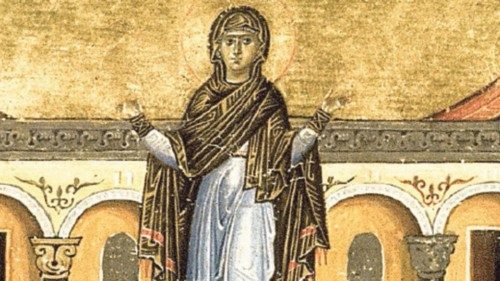 20 May 2022
"How do we save ourselves"? This question was addressed to the spiritual Fathers and Mothers in the desert of ancient Egypt, so that they might indicate "what should be done" in the concreteness of "practical life", in order to attain Salvation — which path to take, which ascetic practices to perform, which virtues to attain, how to conquer the attacks of the devil and his temptations: in short, how to live here and now, in order to obtain eternal Life.
The words of exhortation and teaching expressed by these Abbas and Ammas of Egyptian monasticism in Late Antiquity, to help their own disciples — religious and lay people — were collected and transcribed in various collections of the Apophthegmata Patrum (Sayings of the Desert Fathers), the most important of which are the Alphabetical Collection, grouped according to author and arranged in alphabetical order, and the Systematic Collection which contains Apophthegmata grouped according to subject, as for example: humility, obedience, charity, not judging.
The Alphabetical Collection mentions 133 Fathers and three Mothers: Ammas Sarah, Theodora and Syncletica. Although they are very few in relation to the number of Fathers, they were not less important. Their sayings are an important testimony to the reputation they had, to their teaching and to the roles they carried out.
But who were these Mothers who had made following the Risen One their sole objective in life?
They were women who, ever since their youth, in their own homes and in the solitude of a tomb, like Syncletica, or in solitary dwellings, like Sarah, or in a monastery, like Theodora, had consecrated their lives to monasticism, in order to undertake a serious and arduous ascetic journey which, under the guidance of the Spirit, had led them to the sublimest heights of virtue. This spiritual journey had also given them the gift of spiritual direction, that is, the ability to know how to guide those who came to them asking for words that would lead them towards Salvation, through the discernment of the enlightened Word. They were ever ready to exhort, encourage, comfort, and accompany with firmness and tenderness, enveloping their sons and daughters with their prayers, so that after overcoming all the snares of the devil, they could be enlivened and transformed by the Spirit.
Their spiritual motherhood was not addressed only to virgins or married women, but also to monks, to Abbas, to priests and even to bishops and lay faithful. Indeed, spiritual direction was not linked to gender, but to the journey made in the Spirit, to them being "women of God", and pneumatophores (bearers of the Spirit), which made them able to "calmly dock the boat in the port of salvation by clinging to the faith in God as though to a safe anchor" (cf. The Life and Regimen of the Blessed and Holy Syncletica 19). These Ammas were thus a point of reference for the entire monastic and ecclesial community.
Various apophthegmas of Sarah, Theodora and Syncletica, outlining a simple but safe spiritual journey, have been preserved.
Sarah, for example, places special attention on the way to relate in a true and constructive way with our brothers and sisters, through liberty and purity of spirit, without being conditioned by the desire to be well received and judged:
"If I prayed God that all men should approve of my conduct, I should find myself a penitent at the door of each one, but I shall rather pray that my heart may be pure towards all" (Sarah 5).
Theodora, instead, insists on bearing suffering and all adversity to "profit" and redeem the time of life (Theodora 1). Indeed, suffering and temptation can make us grow and progress, leading us to eternal life:
"Just as the trees, if they have not stood before the winter's storms cannot bear fruit, so it is with us; this present age is a storm and it is only through many trials and temptations that we can obtain an inheritance in the kingdom of heaven" (Theodora 2).
Syncletica delves deeper into the theme of the universal calling because it is the fruit of personal commitment and faith in God who works in us. Addressing those who had consecrated themselves to God, she warns them saying:
"We are like those who sail on a calm sea, and seculars are like those on a rough sea. We always set our course by the sun of justice, but it can often happen that the secular is saved in tempest and darkness, for he keeps watch as he ought, while we go to the bottom through negligence, although we are on a calm sea, because we have let go of the guidance of justice" (Syncletica 26).
For too long, figures like these Ammas have remained insufficiently known and appreciated by both academic and theological research. Today, the value of the role of women in the history of the Church should be rediscovered.
Sr Maria Luciana Tartaglia osb
Pontifical Athenaeum of Saint Anselm

#sistersproject