Hong Kong Cardinal Joseph Zen arrested and released on bail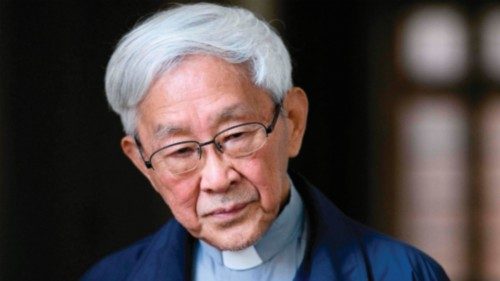 13 May 2022
On Wednesday, 11 May, Hong Kong authorities arrested Cardinal Joseph Zen, 90 years old, who was the Catholic Bishop of the Diocese of Hong Kong from 2002 to 2009. The Cardinal was released on bail that same day, at around 11 p.m., Hong Kong time, according to local journalists who published a picture of Zen outside the police station in Wan Chai on social media.
Upon leaving the police station, the Cardinal immediately got into a private car without leaving any comments. He was accompanied by five people. "The Holy See has learned with concern the news of Cardinal Zen's arrest and is following the evolution of the situation with extreme attention", said the Director of the Holy See Press Office, Matteo Bruni, in response to journalists' questions on Wednesday afternoon.
Zen had been detained by the police force set up to monitor China's national security and was interrogated at the Wan Chai police station. The Cardinal was arrested for alleged "collusion with foreign forces", in connection with his role as administrator of the 612 Humanitarian Relief Fund, a fund that supported pro-democracy protesters in paying for the legal and medical expenses they faced.
In a statement released on Thursday, 12 May, the Catholic Diocese of Hong Kong said it is "extremely concerned about the condition and safety" of the Cardinal and is praying for him. "We have always upheld the rule of law", the communique reads, under which "we trust that in the future we will continue enjoying religious freedom in Hong Kong". The statement concludes by urging local police "to handle Cardinal Zen's case in accordance with justice".