Audience with the Prime Minister of Japan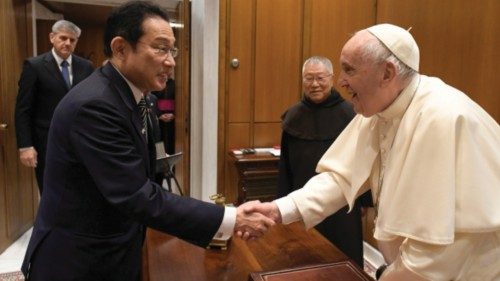 06 May 2022
On Wednesday, 4 May, the Holy Father received in audience H.E. Mr. Fumio Kishida, Prime Minister of Japan, who subsequently met with Cardinal Secretary of State Pietro Parolin, accompanied by Archbishop Paul Richard Gallagher, Secretary for Relations with States.
During the cordial talks in the Secretariat of State, satisfaction was expressed at the bilateral collaboration, evoking the 80th anniversary of diplomatic relations. In this context, the contribution of the Catholic Church in many sectors of Japanese society was noted and appreciated.
Attention then turned to issues of an international nature, with particular attention to the war in Ukraine, stressing the urgency of dialogue and peace and expressing the hope, to this end, for a world free of nuclear weapons.