Athletica Vaticana against the 'Isola d'Elba' team
Winning together for the small Italian islands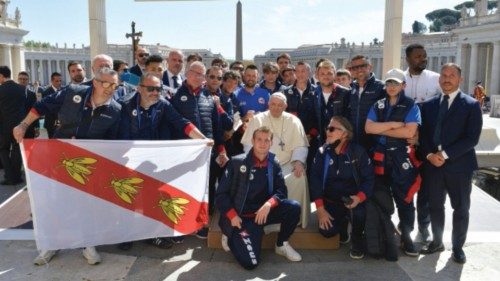 29 April 2022
On Tuesday, 26 April, the Pope's football (soccer) team, known as the "Squadra del Papa — Fratelli Tutti", faced off against the "Isola d'Elba" team — which was representing Italy's 87 small islands — in a friendly match at Rome's Trastevere Stadium.
Beyond a sporting event, the match was an opportunity to raise awareness about social issues related to the diminishing populations on Italy's small islands.
The Isola d'Elba Football Association had written a letter to Pope Francis recounting the daily realities and challenges faced by the 240,000 inhabitants of these islands.
The athletes requested the chance to play the Pope's Team and also expressed their desire to meet with the Holy Father in person, an experience they hoped could spark new initiatives to support the communities, especially the youth, who call these islands home.
They wanted to tell the Pope about feeling "isolated, forgotten by central authorities", explained Gaetano D'Auria, the President of the Isola d'Elba Football Association. "We will tell him that the Church is always present and close to the people" and "we will ask him especially for a word of encouragement for our young people, so that they do not abandon their place of birth", D'Auria said.
In the end, both of their requests were granted. On Wednesday, 27 April, the day after the match, the Isola d'Elba athletes personally greeted the Holy Father in Saint Peter's Square, an experience they will surely take back home with them. "We will convey to our people the Holy Father's warmth", assured D'Auria.
Islands, which in the Bible represent distant and forgotten lands, explained Monsignor Melchor Sánchez de Toca, Under-Secretary of the Pontifical Council for Culture, receive "special attention from God, who does not refrain from sending his messengers to them to deliver the Good News". He expressed his hope that this football match may be a reminder of the Pope's nearness to island populations, citing the Holy Father's trip to Malta in early April.
The "Squadra del Papa — Fratelli Tutti" was formed in November of 2021 at the Pope's request for a friendly match with the World Rom Organization. At that time, the Holy Father had explained the nature and objective of his football team as representing a style of "sporting passion lived with solidarity and gratuitousness", with an "amateur and inclusive spirit".
For this latest match, the Pope's team included Vatican citizens and employees, as well as a young football player with Down Syndrome who participated in the "Special Olympics", and three migrants who spent some time in a refugee camp on the Greek island of Lesvos, which Pope Francis has visited twice. ( ct )