Missionaries of Mercy back to Rome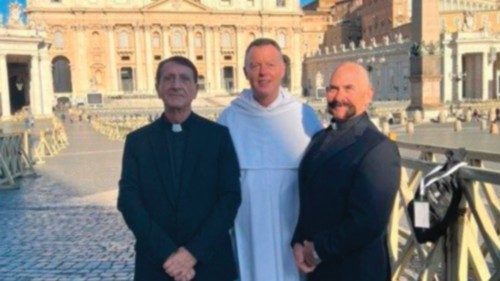 29 April 2022
Missionaries of Mercy from around the world gathered in Rome for their third international meeting organised by the Pontifical Council for Promoting the New Evangelization. Pope Francis invited them back to Rome to meet, pray and share their experiences during Divine Mercy Sunday weekend. The Missionaries of Mercy were created for the 2016 Jubilee of Mercy, but the Pope decided to prolong their service given the many testimonies of conversion attributed to their ministry. The following are excerpts from an interview conducted by Mr Thaddeus Jones from Vatican News.
Here we're emphasizing mercy, coming out of the Jubilee of Mercy when Pope Francis thought of creating this very special outreach that has continued since then. How has this gone in your own ministries?
[Msgr. Ted Bertagni]: I would say one of the main focuses that Pope Francis emphasized when we first became Missionaries of Mercy was the Sacrament of Reconciliation, and that reconciliation was a way of welcoming people into the Church, welcoming people back to the Church. Much like the Father welcomed back the Prodigal Son in the scriptures, in the Gospels. And so all of us in our own ministries, being Missionaries of Mercy, especially in the Sacrament of Reconciliation have had some sort of extreme examples of that. I've been in a couple of parishes where we had 24 hours of continual confessions, and two or three of the Missionaries of Mercy rotated in so that we would constantly have confessions going on for 24 hours. It was amazing the kind of response we got.
As Missionaries of Mercy you have special faculties to forgive sins that are reserved to a higher Church authority.
[Fr Bernard Olszewski]: There are certain sins which are reserved to the Holy See (for permitting absolution), and there are certain sins which traditionally had been reserved to the bishop of a diocese. The faculty which we have been given is that we need no intermediary, that the Holy Father has conferred upon us that same power of forgiveness which resides in him as Supreme Pontiff. And yes, they are rare occasions, but when it is a question of doubt in particular, it is a miracle to be able to lift that doubt from a person's heart and to give them instantaneously the forgiveness without having to say that if you return in a week's time, I will be able to grant you absolution. And so, part of our encounter this time as well is to delve more deeply into the element of those reserved sins and the ways in which we can be of assistance in the forgiveness of those.
How has your role as a Missionary of Mercy affected you personally?
[Msgr. Ted Bertagni]: Some people see this ministry as something to be very proud about, like an accolade, or you are special person. I personally find it more humbling, because I think that in a sense what you do as a Missionary of Mercy is you meet people where they are at when you encounter them, even their lowest moments.
[Fr Bernard Olszewski]: I think for myself, there have been two dimensions and one goes hand-in-hand with the pandemic. When our capacity to go out and preach as we normally do every weekend was suspended, in one sense, I had to redefine what my spiritual life looked like. And I found that focusing on elements of the exhortation that Pope Francis has given to each of us was a wonderful place to start, a very humbling place to start. It allowed me to suspend what I thought I knew about myself and to enter into a place where I felt almost as if I was in the first days of seminary again discovering what the Lord was saying to me and how that direction was going. And for me, that was a wonderful experience of re-energizing my spirituality, which then allowed me to infuse that more deeply into the preaching, which I do every weekend.
[Fr David Caron, op ]: The other thing as you mentioned as we began our conversation, the polarization in the world, countries, parties, I have found that as a Missionary of Mercy, it caused me to stand in the middle and to try to do my best to get opposing sides to speak to each other. Not that they're going to totally agree, and not to say everything's okay, it's not relativism, but I think Jesus was a radical centrist. He was able to kind of bring disparate groups together to talk to each other. I find that in my role as a Missionary of Mercy, that's part of what I try to do. And Pope Francis says that to accompany people, that means everybody, not just the ones we agree with.
If you were to address a message to the public with this conversation we're having, what would it be when it comes to mercy in your role as Missionaries of Mercy?
[Msgr. Ted Bertagni]: Often times, I think people just do not believe or as Fr Bernard said, they do not believe they are worthy of that forgiveness, or they just don't believe that they can be transformed. As Fr Dave pointed out, what happens is we find that people — if they avail themselves of this transformative love and mercy — can change their lives and can be themselves instruments of God's mercy. I think Missionaries of Mercy are also there to encourage others to become, in a sense, Missionaries of Mercy in their own lives to demonstrate it, to live it out, to embody it, so that they, everybody becomes a beacon to their own families, friends, and communities.
[Fr David Caron, op ]: Mercy is endless, you know, and it means, again as Fr Bernard said, loving yourself, but also realizing that mercy takes time. It's messy and it's not easy. It means staying with people when everyone else runs away or moves away because it takes so much time. And to realize also that we only know mercy because we have received it. We know what it feels like to have someone share mercy upon us. So then how do we take that same experience and share it with others?