Papal almoner prays at mass grave
Cardinal Krajewski's Via Crucis in Ukraine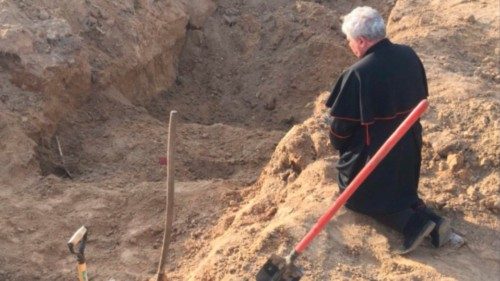 22 April 2022
Cardinal Konrad Krajewski, the Pope's Almoner and the head of the Office of Papal Charities, prayed at a mass grave in Ukraine on Good Friday. While Pope Francis led the Via Crucis at the Colosseum in Rome, the Polish Cardinal and the Apostolic Nuncio to Ukraine, Archbishop Visvaldas Kulbokas, led the Stations of the Cross in Borodyanka, a city about 80 km (50 mi) north-west of Kyiv that was heavily damaged by Russian troops.
Their Via Crucis was marked by rubble, shovels and lifeless bodies, by the cruel consequences of war. Cardinal Krajewski at one point knelt at a mass grave, caressing the ground.
Speaking to Vatican News on Friday, 15 April, Cardinal Krajewski described what it was like to see so many dead and a mass grave "of at least 80 people buried without a name or surname". In front of a tragedy of this magnitude, of a war which Pope Francis has described as "an outrage against God" and "a blasphemous betrayal of the Lord of Passover", Cardinal Krajewski remained hopeful, strengthened by faith in Jesus' Death and Resurrection. "Perhaps He will explain everything with His love and change everything, even within us, this bitterness and suffering which we have been carrying for some days, but particularly on a day like today".
This was the third time the Pope's Almoner travelled to Ukraine since Russia launched its invasion on 24 February. On Holy Thursday, he delivered an ambulance full of medical equipment to a cardiological hospital in Kyiv. It was the second ambulance Pope Francis sent to assist the people of Ukraine.
Another key part of the Cardinal's trip was to celebrate the Triduum and Easter with the different churches, conveying to the suffering people the Pope's closeness and desire for lasting peace.
Peace was precisely one of the things for which the Pope prayed at the Via Crucis at the Colosseum on Good Friday.
During the 13th station, "Jesus dies on the cross", the estimated 10,000 people present were invited to pray silently for world peace. The moment was especially moving, as two women, Irina and Albina (see photo above), one Ukrainian, the other Russian, silently held the cross together.
The other stations were led by different families, who each shared their own daily struggles and hopes. There was a young married couple; a missionary couple with twins; an elderly couple with no kids; a family with five children; a family with a disabled child; a family managing a home for people with mental illness; a family with an ill parent; a couple of grandparents; a family with adopted children; a widow with children; a family with a consecrated child; a family who lost a child to a tumour; and a family of migrants.
It was a moment of solidarity. A moment to join the Pope in praying that "the lamp of the Gospel" continue to shine in families and that "where there is hatred, concord may flourish".