The Ideas
The challenge
of Women Church World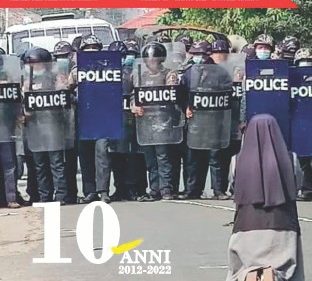 30 April 2022
This year, Women Church World marks its tenth anniversary. In 2012, for the first time in its history, L'Osservatore Romano hosted and promoted a monthly supplement dedicated to women, whose task was to recount, narrate and express opinions on the condition of women in the Church. This choice was based on three assumptions.
First, there is discrimination against women in Church institutions too.
Second, the Church was particularly late in recognising the status of women; in fact, there was an even stronger and more widespread patriarchy here than in other sectors of society.
However, there was a third, which turned to a female world that had evolved and wanted to count for more. It was not just a question of power - which was and is there still, - but of affirming an identity, a culture, an experience of faith, prayer and social relations that women had developed, and which would be useful to all believers.
During these ten years, Women Church World has ploughed, sowed and cultivated a vast field that has proven to be more fertile than we had thought. Therefore, it was not easy to choose the topic and the articles for this issue that would tell the story of the magazine, its research, its discoveries, and the protagonists of these intense ten years. Upon rereading this issue, we have seen that, in the field we had tended, a strong plant had grown. Moreover, some of the protagonists had shown themselves with more strength, and have broken down stereotypes and revealed an energy that we had only suspected before commencing. These have been the nuns and the sisters.
Women who consecrate their lives to the faith are a vanguard. Precisely on the basis of the choice they have made, they want to change -and are already changing- the Church and the world. They are fighting against modern slavery; working in countries at the centre of conflict; becoming entrepreneurs and maintaining a community practice, thus revolutionizing the world of work. These people write books, they examine biblical texts with new eyes, they practice discernment but are not afraid to rebel against injustice, they are not afraid to challenge the roles assigned to them; they recognise tradition, but want change. Moreover, they do not hesitate to point to women as an issue to be addressed and on which they are lagging behind, knowing how to distinguish between the authority of the Church and the authoritarianism of men.
We dedicate this issue of Women Church World (WCW) to them.