A Franciscan and a nurse. On the side of the poor for 30 years
A life combatting misery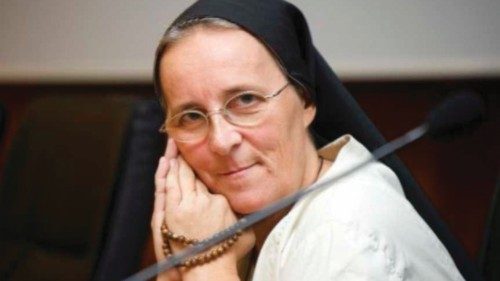 30 April 2022
This article was published in the April 2020 issue

The very powerful spiritual strength of Sister Marcella Catozza is perceptible over the telephone. This has been a necessary and essential resource to draw from to continue working for over 30 years where the scourge of poverty in the world is festering. The last 15 years have been characterized by the toughest of emergencies, where the fine line between life and death is extremely thin. To illustrate how narrow, she talks to me about the orphanage she directs in Haiti in the most dangerous slum area in the world, and of the armed bandits who surround it. There have been times when they have raided the stores and left her in a state of anguish because she was unable to provide food and water for two days to the dozens of children in her care, many of whom she has helped deliver into this world from dying mothers. These situations forced her to a verge, where she says, "I couldn't have held out if I hadn't had a fighting character and the faith that there is sometimes a mysterious good inside the worst situations. A good that is done, and which is not discussed. Which is real".
This meaning was rediscovered by giving herself entirely to Waf Jeremie, the poorest slum in the capital Port-Au-Prince. This is a no man's land, or rather a land of 50,000 desperate people, where she has built the San Franswa pediatric clinic, which is the only medical facility amidst that abject misery. It is here, in this context, that she gives support to the undernourished children and mothers with AIDS who are unable to breastfeed. Her mission can trace its roots in the distant past, when she decided to do a degree in Medicine in Milan. In her fourth year of studies, her direction was in part interrupted because she became a nun and nurse contemporaneously. Today, she continues her activity of delivering first aid to injured people who knock on her door every day. "Basically I apply stitches to people who beat each other to death, who injure themselves with sharp objects, women beaten by their husbands, fractured or people with burns".
A trench within a trench. This nun, who belongs to the Franciscan Missionary Fraternity, manages to confront this situation, and explains so frankly; "Sometimes I stop and reflect upon it. I was born in a very quiet place called Busto Arsizio, an industrial town in northern Italy, and I find myself operating on an island where catastrophe and abuse are a quotidian reality. Haiti is one of the poorest countries in the world, where two million people are homeless, and in the struggle, only the strongest will survive. Two years ago, at the mercy of criminals, we were left without food, and so I spent 48 hours singing and drawing with the children. Fear exists; indeed, it is never far away. Jesus himself was afraid but he went on accepting what had been decided. If I think of the nights I have spent lying awake thinking that the criminals could hurt the children, if I think of when they broke into the building with their guns blazing to steal everything from us, how is it possible not to experience terror? I remember taking refuge under a table and calling the Apostolic Nuncio that evening to tell him, perhaps I will not survive and be here in the morning, give me your blessing. I am still here. Because life is a series of circumstances that push us to say "yes", because these circumstances do not depend on us. I give all of myself, if it serves for a greater good". Before the earthquake hit on Tuesday, 12 January 2010 it was difficult to find organizations to follow projects in that area, and Waf was a zone considered off-limits by the United Nations because it was so dangerous, hence abandoned to the dominion of criminal gangs and traffickers.
Yet, when the catastrophic earthquake struck Haiti killing 200,000 people, Sister Marcella was there, and one of the few presences in that forgotten world. She had been living there for five years when it hit, and had already done so much. After the earthquake, she rebuilt a school, an orphanage, a clinic, a cholera centre, and a canteen that feeds 300 children every day. With her heart and strength, she has helped craftsmen build more than 100 brick houses. Today, this is the Vilaj Italyen, and there are photos of this determined and solid woman online.
Today, Sister Marcella, who is 57 years old, is speaking to me from a farmhouse in Cannara, in the valley of Assisi, where her Via Lattea [Milky Way] Foundation is based. In the summer of 2019, she brought twenty or so children and young people from the orphanage in Port-au-Prince there with the aim of giving them an education. In the future, it is hoped they could return to the island and establish a different ruling class from the corrupt one that dominates Haiti today. "We can't use the good-natured look of the poor child that we give to adoption to an Italian family because all they would find at home is misery. It makes sense for them to return to Haiti so that the country becomes a better place". This is her reasoning, enlightened by the results garnered through her long experience working with young people in the most difficult of places.
For thirty years, this brave and strong woman has been where hurricanes, epidemics and earthquakes torment humanity. Ten years in Albania, where she founded the mission of Babice and Madha; she was also in charge of the Kosovar refugee camp in Vlore. It was there, one day that a mafia boss showed up with a briefcase full of money wanting to "buy" six Kosovar orphans whose organs would be used to help six Albanian orphans. Sister Marcella threw the briefcase at him, and the same night she managed to take the children to safety to the Red Cross. The mafia attacked the mission, and the St Mark's Battalion had to intervene.
In Mozambique.
Her war-torn curriculum vitae includes five years in the Amazon where she took care of the street children from the favelas and contributed to the foundation of the Educational Centre Nossa Senhora das Gracias which today welcomes 700 three to eighteen year old children; and today, in Haiti, among the poorest of the poor. She has been opposed, and threatened; she has been asked for bribes. To these requests, she has confronted the shantytown boss by going to his home and making him acknowledge that the volunteers were only doing good for the poor people. In 2011, one of the slum gangs murdered Lucien, a young ex-outlaw who had been working with her since her arrival in Haiti. Sister Marcella knew that the murder was a message intended for her. Yet she did not retreat, or shy away. From this religious woman without fear, "I do not seek martyrdom, I often wish to leave". The first to understand that she could have the charisma of education was the bishop of the diocese of Parintins, Brazil, where she spent five years from 2000 to 2005. In the educational center that she directed, Sister Marcella understood how to relate to children. "Never give rules, not even the Catechism, if they are not first helped in their human dimension, to be free and positive, to understand that if they do not study they damage firstly themselves. The human being is self-awareness, the understanding of what desires they have in their heart. It is necessary to provoke these children to remain true, indeed, to obey this reality with an internal motivation. They must first of all learn that it is necessary to choose the good way because it is the most intelligent thing for them".
When the children from Waf Jeremie come into contact with this well-being, they flourish. "Many of our children are marked by violence and abandonment. They have been beaten in the family home and beaten at school, they risk feeling solely defined by trauma; instead, our effort is to repeat to them that they are a wonderful treasure. It is difficult teaching them, but children learn by imitation, so even in the most serious emergencies they learn to adopt a posture of courage and the challenge of accepting reality as it comes without letting it get to them". Then there are the young people who leave, the so-called "lost boys" that Sister Marcella has often met on her journey. Of one, in particular, she recalls, was a young boy who used to smuggle weapons into the orphanage. "Compassion is the worst approach we can adopt. If I had thought 'poor thing' I would have denied him the freedom of having the choice at that moment to adhere to the wrong rules. I sent him away from the foster home. Sometimes I meet him and I see that he respects me. He knows that if he wanted to change his life and leave the gang of thugs with whom he spends his time, my door is always open". An emergency is also what is happening with the pandemic triggered by the Coronavirus; the globe is now saturated in pain that can fill the whole world with fear. Sister Marcella is able to resist giving in to it: "If I were to have to maintain control over my life, then everything frightens me. We must understand instead that life is given for a good that can be shrouded in mystery: if we believe, then life stops being a toil and we stop wanting to bend circumstances to our will".
by LAURA EDUATI