The Holy Father visits peadiatric hospital Bambino Gesù
The Pope's caress to children from Ukraine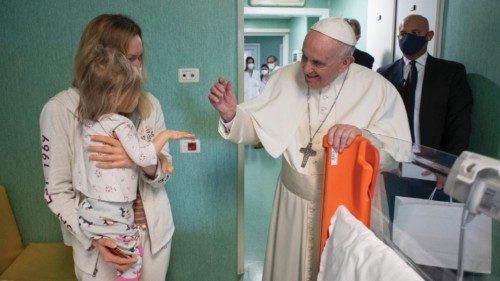 25 March 2022
"I went to see the injured children who are here in Rome. One is missing an arm, the other has a head injury.... Innocent children". At the Angelus on Sunday, 20 March, Pope Francis shared his story of the surprise visit he made on Saturday afternoon, 19 March, to the Bambino Gesù Paediatric Hospital in Rome where a group of Ukrainian children is receiving treatment after fleeing the war in their home country.
On Saturday morning, during his encounter with the young singers of the Antoniano Choir, the Holy Father had mentioned the arrival of the injured children: "Do you know that some children who are wounded by the war have already arrived in Rome and are at the Bambino Gesù" hospital. We pray for them. We are helping them heal. "Pray for them".
After arriving at the hospital shortly after 4pm, Pope Francis was accompanied by the hospital's President, Ms Mariella Enoc, to visit the wards where the children from Ukraine are being hospitalized. "The Pope stopped in the different rooms, and visited all the little ones present, before returning to the Vatican", said a statement by the Holy See Press Office.
Around 50 children have arrived from Ukraine — 19 of whom are hospitalized— to receive quality care.
The Holy Father visited the group of Ukrainian children, along with all the other patients in the paediatric hospital.
The children are receiving treatment for various pathologies, including care in the oncology and neurology wards.
On a separate note, on Friday, 18 March, the Pope expressed his gratitude for this service in a brief hand-written message to Ms Mariella Enoc: "Thank you for your service, charity, and love for wounded Ukrainian children. I am close to you."