Programme
for the Holy Father's
Apostolic Visit to Malta,
scheduled to take place
from 2-3 April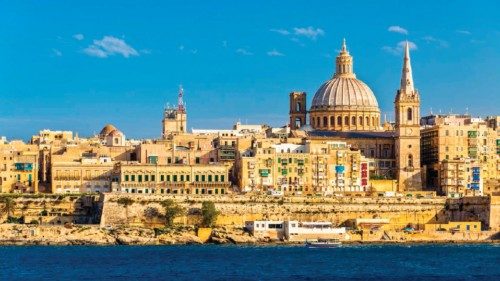 11 March 2022
Pope Francis' Apostolic Visit to Malta is scheduled to begin on Saturday morning, 2 April, when he will depart from Rome's Fiumicino International Airport, arriving at Malta International Airport at 10:00am. Following a welcome ceremony, the Pontiff will travel to the Grand Master's Palace in Valletta where he will meet with various civil authorities. The first visit will be to the President of the Republic in the Ambassadors' Chamber. At 11:35, he will meet with the Prime Minister in the Pages Chamber. Then, at 11:50, he will meet with the authorities and the diplomatic corps in the Grand Council Chamber, where he will give a speech.
At 3:50 pm, the Holy Father will depart from the Grand Port of Valletta for Gozo, arriving at 5 pm at the Port of Mgarr. At 5:30 pm, he will attend a prayer meeting at the National Shrine of 'Ta' Pinu', where he will deliver a homily. At 6:45 pm, Francis will leave by ferry from the Port of Mgarr, arriving at the Port of Cirkewwa at 7:30 pm, after which he will head to the Apostolic Nunciature.
On Sunday, 3 April, the Holy Father will meet with members of the Society of Jesus at 7:45 am, in the Apostolic Nunciature in Rabat, after which he will visit the grotto of Saint Paul in the Basilica of Saint Paul where he will say a prayer. At 10:15, the Pontiff will preside at Holy Mass in the Square of the Barn in Floriana and then recite the Angelus prayer.
At 4:45 pm, Pope Francis will meet with migrants at the 'John xxiii Peace Lab' Migrant Centre in Hal Far, where he will deliver a speech. After a farewell ceremony at Malta International Airport, Pope Francis will depart for Rome at 6:15 pm, and is scheduled to land at Fiumicino International Airport at 7:40 pm.