New South Wales' flood crisis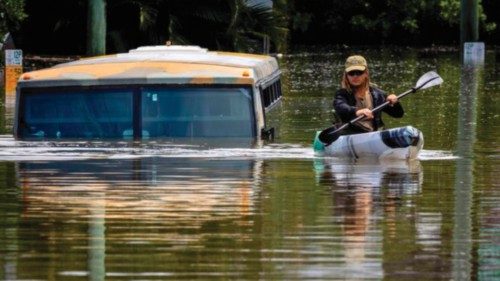 04 March 2022
Floods caused by record torrential rains have been wreaking havoc along Australia's eastern coast, resulting in at least 14 deaths and many displaced people. Thousands of people have been evacuated and at least 50,000 properties are still under water as power was interrupted and the Bruce Highway was closed off in several stretches. The "rain bomb" began last week in the southeastern part of Queensland, causing widespread damage to Brisbane and all surrounding areas before moving down to northern New South Wales, where among many towns it hit Lismore, breaching the levee and causing the town's worst flooding on record. In a video message, Bishop Gregory Homeming of Lismore, expressed his closeness to all those affected. "Food, care of people, the reinstatement of hope, of trust. This is our task and we are in it together as the people of Lismore, the people of Lismore Diocese", he said.
Many in flood affected areas took refuge on roofs, waiting for rescue efforts to reach them as several towns and bridges were submerged. In the small highway town of Woodburn, nsw , people who were trying to evacuate were stranded overnight on a bridge over the Richmond River, surrounded by water, until rescue teams were able to lend assistance in the morning.
As the extreme weather moves south to New South Wales, severe rain is expected to ease in Queensland although the level of rivers, creeks and brooks will continue to be high. Many communities throughout nsw have been asked to evacuate.
According to Australia's Bureau of Meteorology, after several years of drought and bush fires, exacerbated by climate change, the eastern coast of Australia had experienced a wetter than usual summer due to La Niña which brings with it above average rainfall. However, the magnitude of this weather front far exceeded expectations.