Pope expresses condolences upon death of Cardinal Luigi de Magistris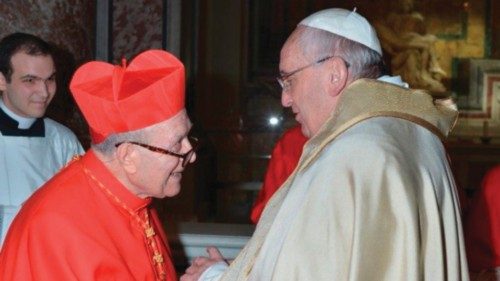 18 February 2022
Pope Francis has sent a telegram of condolences to Archbishop Giuseppe Baturi of Cagliari, Italy, expressing his sorrow over the death of Cardinal Luigi De Magistris, Major Pro-Pentitentiary emeritus, who died on Wednesday, 16 February, at the age of 95. Remembering the Cardinal's "irreproachable priestly zeal who served the Lord and the Church with great dedication", and "his love for the ministry of Reconciliation", the Holy Father expressed his gratitude for his "generous commitment" to the Holy See as a "diligent and wise collaborator" of previous popes.
Pope Francis prayed that, through the intercession of Our Lady, the Lord may "welcome this faithful servant into the heavenly Jerusalem".
Cardinal De Magistris was born in Cagliari on 23 February, 1926. After his ordination to the priesthood on 12 April 1952, he served in parish ministry and at the diocesan ecclesiastical tribunal. On 1 October 1958, he entered the service of the Holy See as secretary of the Lateran Athenaeum and, from February 1959, he served in the Congregation for the Doctrine of the Faith, first as a substitute notary, and subsequently as a summist. In February 1969 he was transferred as a minutant at the Council of Public Affairs of the Church and on 2 May 1979 he was appointed as regent of the Apostolic Penitentiary.
He was ordained a bishop on 28 April 1996, following his appointment as titular of Nova. On 22 November 2001, he was appointed Major Pro-Penitentiary, a role he fulfilled until 7 October 2003. Cardinal De Magistris served as consultor of the Congregation for Divine Worship and the Discipline of the Sacraments, the Congregation for the Causes of Saints, the Congregation for the Evangelization of Peoples, the Congregation for the Clergy and the Pontifical Commission "Ecclesia Dei".
He was created and proclaimed cardinal by Pope Francis in the consistory of 14 February 2015.