New generations
The Fatigue of Being Young and Catholic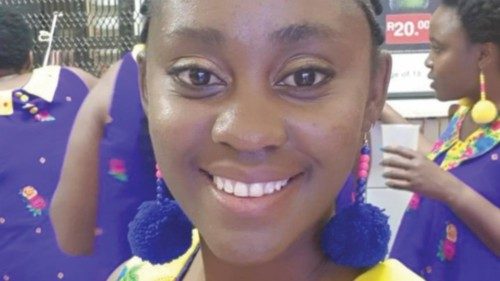 05 February 2022
Koketso Mary Zomba and her commitment to South Africa

I was born into a Catholic family, a descendent of three generations of Catholic women. In a way, Catholicism was forced on me, though I have always known it to be the right way to do things. As I grow older my faith evolves, however, I choose it every day because I have identified it as the place where God speaks to me.

Being a young Catholic woman
As a young woman coming from a democratic country, where the rights and freedoms of citizens - especially those of women - are not only enshrined in our Constitution, but also respected daily in society, I often find my personal values in conflict with the values of the Catholic Church, which I was taught and grew up with. This has led me to feel a sense of uncertainty about my moral compass and how to "position" myself on certain issues. I think many young people can relate to what I am saying.
In an increasingly globalized world, where everyone is so explicit and opinionated about everything, our non-Catholic peers often question us (young Catholics). In fact, we in turn question our own faith, when not knowing often where to turn to receive the precise answers we need because of how the Catholic Church is structured and does not always give direct answers. The uncertainty on some issues led me at one point to feel a tremendous emptiness, which I did not know how to fill. I used to be the youth leader and continued to serve the Church and youth ministry, but the void remained because I was still not connecting in the way I needed to with God.
We young people are easily overwhelmed by everything going on in our lives and what is happening around us, whether it's school, work, our social life, socio-economic issues, or efforts to keep our mental health in check. We end up neglecting our spiritual formation, and that is where I was giving up. Because of the desperate need I had to fill that void, I attended a weekend retreat (something not many young people do), and it was through the spiritual guidance of a priest that I was able to find a way to be able to connect with God.
That experience gave me a feeling of satisfaction and fulfillment. It reminded me that everything I needed to fill that void had always been there. I come from a small parish community, so I have always felt the love and warmth of the parishioners, who are like members of an extended family. When I am there, I feel a strong sense of belonging. I am proud of it and choose each day to be part of that community that believes and belongs to Jesus. As an individual, this same sense of belonging allows me to actively choose to be Catholic each day.
Being a young African woman
I like being a woman, I am a proud African, and I choose to be Catholic. It is these three aspects that shape my identity, and they all have good and bad sides. As Africans, we grow up knowing that a community raises us, that every elder in our community represents our parents. You also find this sense of community in our Catholic churches in Africa, and it confirms that we are indeed in the right place. As a young African woman, I love that there are spaces in the Catholic Church where women can walk together in their drawing closer to God. It is exciting to see how the different women's fraternities, while not perfect, testify to their love for God and the Church as a unit; I know that I never walk alone.
As young African women, we are faced with the challenge of sustaining and preserving our cultures and traditions while also trying to be devout Catholics. The Western influence of the Catholic Church has often produced misunderstandings about believing in ancestors - often accompanied by a negative connotation - while, on the other hand, we are taught to honor the saints.
In addition, although there are many opportunities for young people today, women must always take a supporting role; we see this both in the Church and in the African women's context. Women are under great pressure to succeed and be successful, but not as much as their male counterparts; after all, we can become deacons and religious, but not priests.
The Church and Listening to Young People
I think the Church has made a commendable attempt to listen to the views of young people, but only to a certain extent, on one particular aspect. The Post-Synodal Apostolic Exhortation Christus Vivit, which serves as the Holy Father's letter to young people, has helped us to manage life within the context of our religion.
Also, seeing a young person speak at the General Assembly was like we had reached a milestone. This event showed that the Church is listening and cares about hearing about the opinions of young people.
However, there is inequality in representation. The African one remains a minority - African problems or challenges have always been seen as minor issues. This has highlighted the need to establish a Global Youth Forum and, similarly, an African Youth Forum, which will focus on issues specifically affecting Africa's youth.
Young people are moving away from the Church.
In the African context, education is important. This drives many young people to put education first, and even weekends are devoted to school work (during the pandemic it has become the norm for freshmen and students).
Because we are not deeply rooted in our faith, we make others' views and ideals (those of our parents) our own. That is why it is easier to abandon them - and many do when they leave home- because they are not our ideals, we have adopted them.
Unfortunately, due to the pressure of social media, young people have a tremendous need for instant gratification or solutions. Most of them have grown up being told that life events will happen in a specific order and that if you do things right, everything will follow in that order. Sometimes, however, things do not happen that way; for example, a person finds themselves unemployed after finishing their studies. The Catholic Church does not seem to offer solutions or guidance on how to handle these kinds of problems. Frustrated, many young people end up leaving it and approaching other churches that promise to give them access to all the things they want in a single moment.
How to turn things around.
There can never be a one-size-fits-all solution, but fostering personal encounters with Christ, providing space, guidance and support from an early age might be a good start. One should always feel that the Catholic Church is the place where one will encounter Christ even before it is the place of structured prayers, rules and procedures.
by Koketso Mary Zomba

KOKETSO MARY ZOMBA, 29 years old, is a young, lay, Catholic woman, born in Pretoria, the administrative capital of South Africa. She is the Secretary General of the Inter-Diocesan Youth Committee of the Bishops' Conference of South Africa and a member of the youth of the Tshepo pastoral district in Hammanskraal. In addition, she was chosen to represent the Southern African region (South Africa, Botswana and Swaziland) at the preparatory meetings in Rome for the Synod of Bishops on the theme "Youth, Faith and Vocational Discernment", which was held in October 2018. We asked her for a reflection on being Catholic and the Church.