Intervention
A wound in the Church that requires parresia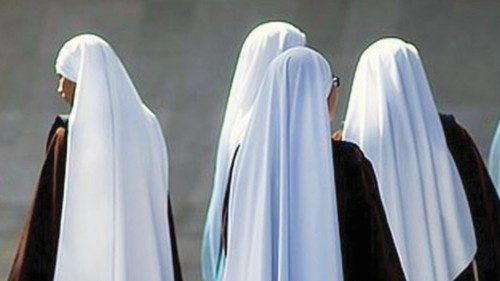 30 December 2021
The situation about the abuse of consecrated women

The abuse involving consecrated women is a more widespread situation than we can imagine, and around which there is still much indifference and silence. In fact, it is obscured and silenced within the Church's diversified hierarchy. The situation is still partly unknown in its many facets, that is, the dynamics are intertwined, as are the triggers, and the effects of the suffering that occur in victims' lives over time. Women who are victims of these forms of abuse struggle for a long time with pain and deep suffering. This includes the loss of their life expectations, the sense of loss that affects even their experience of faith, the struggle to rebuild the dignity of their person, and the meaning of their life. Abuse is a crime about which words such as protection, prevention, formation and justice are still far, far too distant. To write something about this situation requires a great deal of delicacy and respect so that the interior lives of these people are not violated once again. After all, it is not curiosity that should guide us, but rather the sincere intention to listen, and which commits us to change and conversion.

Here we are referring to a form of "familial" abuse that requires systemic observation so as to be understood.
"Familial" abuse is defined as such because it occurs frequently within the close network of intra-ecclesial relationships, i.e. priest and nun, formator, or superior and young person in formation. Therefore, this form of abuse is subjected to the laws of silence akin to that of intra-familial incest, where silence is kept, where it is hidden away, and denial and collusion occurs with the guilty party. The perpetrator is sometimes defended for economic reasons, for the reputation of the congregation itself or for the reputation of the abuser when he is very influential in the ecclesial sphere. Moreover, when consecrated women are abused, the culture that mixes authority, obedience and silence is very strong and risks favoring this same defensive system.
Systemic observation. The abuser is able to carry out the crime and often remain unpunished and undisturbed precisely because of the way things are covered up in the sphere within which he or she operates. A strong complicity can often be created, which is fed by exclusive ties with ecclesiastical superiors who are also willing to testify to the good reputation and upright conduct of the abuser. The system, within which every form of abuse takes place, if observed carefully, is markedly pathological, and capable of incorporating in a symbiotic way those who conform. Moreover, those who, miraculously maintain their autonomy in the reading of the situation -and therefore arrive at a judgment, and express their critical observations and manifest positions and choices, and do not conform to the majority-, are often isolated or expelled. At the same time, it is an extremely resistant system to any external confrontation.
The two elements that characterize communities with a high potential risk of abuse are the instrumental use of proclaimed values and the style of leadership in the community.
Instrumental use of values. In these experiences of fraternal life, the instrumental use of values intrinsically linked to the vocational choice occurs frequently: the vows - poverty, chastity, obedience - prayer, the meaning attributed to the Word of God, the celebration of the sacraments, the habit of spiritual accompaniment, the intrinsic dynamics of and in community life, the performance of one's apostolic service. All of these contribute to forming realities within which manipulative, exploitative, dependent relationships, and spiritualization go on to create the fabric in which different forms of abuse can find root and expression. Unfortunately, in these forms of life, obedience, or rather submission, is presented in a categorical way as if it were a fundamental virtue. In addition, superiors use poverty to justify excessive forms of dependence and control. Chastity, if not presented correctly in formation and accompaniment, can lead to premature closures, to forms of denial of the emotional and affective needs that each of us experiences, to censorship of sexual experience in all its expression and content, and to the difficult integration of one's sexual identity.
Pathological leadership, weak discernment, and excessively rapid recruitment. In communities where the various forms of abuse by authority favor a manipulative context, where obedience-submission is almost absolute, and one lives according to a passive approach recognized precisely as a fundamental virtue. This slowly but surely leads to a pathological transformation of the concept of fidelity to the charism, which is transformed into fidelity to the tastes and preferences of a particular person who in turn arbitrarily decides who can take advantage of formative possibilities, apostolic commitments that are more or less gratifying, responsibilities within the group, and so on. Almost as if it were a prize awarded to those who are most docile, uncritical and, indeed, submissive. This form of leadership, which is seriously manipulative, absolute, and all-encompassing has serious repercussions on the community because it favors the regression of the members, leaving room for a dynamic where the leader is idealized and everyone is subjugated to his will.
In this regard, it is interesting, and should be reread and studied with greater attention, what is reported to happen in mixed communities. In these contexts, we see the presence of laity, families, consecrated persons, religious, priests, and apparently less hierarchy, without precise boundaries. In addition, there is a considerable amount of entangled behavior, guided by "charismatic" characters to whom an absolute role and often the object of forms of veneration is attributed and recognized. These newly founded situations run the risk of being a sort of self-sufficient, self-referential parallel church in which formation is practically absent or solely centered on the word of the founder who often becomes the sole interpreter of the word of God. These are communities within which there is frequent confusion between the external and internal forums; in addition, discernment is absent, and formation is weak and controlled. On the contrary, discernment is more in keeping with the reality of recruitment as a response to rapid conversions that lead the person to idealize the leader, the system of life and to experience existential changes that are as sudden and absolute as they are poorly elaborated and rooted in the person.
Traits in the family history of the most vulnerable people
With extreme respect, we can collect certain brief traits, which are present in a transversal way. The family history reveals the risk of those who are more likely of being singled out by potential abusers because they are more vulnerable. These include: a form of strict, intransigent and fundamentalist religious "morality"; forms of an excessive emotional expression of faith; forms of rituals that are somewhat magical and where reality is spiritualized. In addition, a habit learned in the family where the priestly figure is idealized, and, in any case, the recognition of a superiority of the male figure in the management of life; and, an education aimed at experiencing all values with rigor and a discipline fueled by an absolute sense of duty. However, another fact must be considered very carefully, and that is when the abuser chooses his victims, he hardly ever gets it wrong! When the abuse of consecrated women is committed, it is often young women who are "chosen". These women are very sensitive to religious values, with a particular finesse in spiritual research, and a deep capacity for reflection, but with forms –which are often unconsciously considered, of an idealization of the position and the person of the priest.
What do people hurt by abuse expect from us? What approach should our listening adopt?
These people expect to be recognized and welcomed as persons, even before they are - only - victims, to be believed in their pain, to be listened to with respect. Those who have been hurt in the church want to have the right to choose to stay in the church or leave. They expect justice; they want to be told clearly, who did what. Who committed the abuse and who is the victim who suffered it. They expect to be subjects of the judicial process and not have to go through it without proper involvement. We need to be aware that when a person comes asking for a hearing, she has already traveled a very difficult road and, often, is still struggling with shame and guilt, with the fear that the other person listening will not believe her.
A climate of trust, of delicacy and respect must be created, of judgment and prejudice, devaluing attitudes, hasty relational styles, even minimal expressions of disturbance, anger, annoyance, disgust, must be avoided because it would be like reiterating the abuse itself. We must experience compassionate listening in its true meaning.
Abuse as a form of criminal surveillance
In the practice of listening and accompaniment, we encounter constants that deserve attention. This involves the abuse of a person's conscience as a tragic prelude to forms of sexual abuse and the frequency of abuse in vulnerable adults. There is a close connection between conscientiousness, spirituality and sexual abuse. The interpretive key to this form of abuse lies in the exercise of spiritual authority in a way that is deviant and improper with respect to its specific purpose, which is that of bringing others closer to God.
These abuses occur in both forms of old and new experiences of consecrated fraternal life, in movements and associations, in which the founder or superior manipulates the conscience of the members by instrumentalizing their relationship with God. They can also occur more routinely within relationships of trust and handing over one's intimacy to a priest; for example, during spiritual accompaniment and confession. It is precisely in this very sensitive area that acts and gestures of an abusive nature are carried out, including various forms of molestation and sexual abuse, even very serious ones.
Wounded people, vulnerable adults. In the therapeutic accompaniment, we frequently come across adults who had been abused when they were minors and in whose personal history the abuse was then repeated.
Except for the vulnerability that concerns forms of disability and serious psychiatric pathologies, the reality of existential situations is much broader and further articulated. It is very thought provoking that, although abuse is a widespread situation, it is kept in parentheses; it is not fully recognized because it is difficult to explain and, consequently, is to rarely investigate. Many inter-diocesan and diocesan services speak only of the protection of minors, which is a very important reality, but certainly not the full picture. Among other things, today's injured person is often the child abused yesterday in the family context in the strict sense (parents) or in the extended family (relatives) or in the wider circle of family (friends).
The experience of listening to adults presents us with at least three levels of vulnerability that open up reflection.
The first essential level. Vulnerability begins at the moment when a person opens up, handing over particularly difficult experiences and times in his or her life to another who is considered worthy of trust.
The second level. One goes through moments of particular vulnerability within very difficult passages of life such as, for example, illness, bereavement, loss of work, serious relational difficulties (parents, family, children), and significant doubts about one's choice of life. These are times in which the perception of one's own fragility grows, and the loss of security and the sense of loneliness become more acute.
The third level. This concerns those situations in life that can awaken a deeper vulnerability, linked to traumas and wounds that are already present in the person's history, which -for different reasons-, have not been re-elaborated. Reflecting on the reality of the vulnerable adult and the abuses that occur within the context of spiritual accompaniment and the sacrament of confession, it emerges ever more clearly that the dynamic of abuse is really a warning sign on a much broader horizon. We should realize that there is not "only" the question of abuse at stake, but also the sacred quality of every ministerial act. The abuse of consecrated women manifests this reality very clearly, and therefore needs to be investigated and addressed.
Seeking and waiting for justice
The gospel educates us to the fact that justice, as in the beatitude "blessed are those who hunger and thirst for justice", is something to be desired and something to be begged for. Desiring and begging. This is the experience that I have encountered so far when walking alongside people who have been abused, especially when they are people who are not considered important, like these women. In addition, as they do not have strong economic support because often after an abuse one leaves the congregation and has to struggle to regain the right to live with dignity.
Justice must be begged for, so it is very difficult for those who have been abused to find the strength to do so and to sustain the humiliation of having to depend again on someone who has a strong role power over their life and person. There are so many doors to which one must knock; it is difficult to find lawyers who, with professional fidelity, defend those who are truly weaker. We often find ourselves having to defend people who have personal problems and who have paid the heavy cost of different forms of shame for a long time. For example, a nun on average is already devalued, because she is a woman and a nun, who can be found to defend a nun! Sometimes, there are conditions of greater security that everything can proceed if the person is protected by an institution that puts itself at stake. However, if they are left alone and have no resources, it is very difficult and there could be the risk of compromising their own reputation by placing themselves, perhaps even against a prestigious institution, which is therefore stronger and more powerful. Defending the most vulnerable, even professionally, is a risk and it takes courage and determination. However, we can say with parresia that it is an evangelical choice; a precious form of protection and prevention.
By Anna Deodato