The story of James Dailey
An Innocent Veteran under a Florida death sentence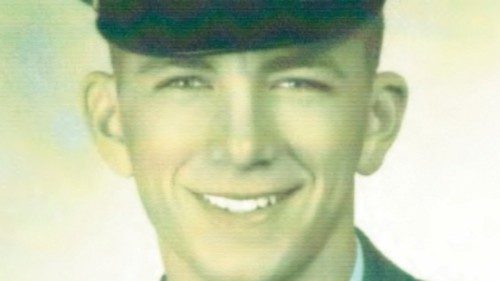 26 November 2021
On June 12, 2019, my wife Susan and I board our plane in Rome, Italy to take us home to the USA. We settle into a nine-hour discussion of all we have experienced during three weeks in Rome.
As our plane lands and taxis the crisscrossing concrete of JFK, my cellphone, suddenly erupts in ringing, in tones and in buzzing.
A quick glance at my phone display after the jet is resting in its JFK gate causes my heart to stick in my throat. The Warden of Florida State Prison, Florida's execution prison, is trying to reach me.
"Yes, Brother Dale," his assistant recognizes my voice without any self-introduction. "He is in a meeting but asked me to put you through when you called back."
After a few more clicks and chirps, both the Warden and prison chaplain are on the line.
"Brother Dale," the Warden begins, "we hope you had a good trip, but it's time to get back to work.
"One of your spiritual advisees has had his death warrant signed by the Governor. He has asked for you as his deathwatch spiritual advisor and his execution witness. Will you do it? Yes or no?"
"Yes. When do you need me to report to the death house?"
The downstairs level of Q Wing at FSP — the cells, execution witness room, and execution chamber — is called the death house.
"Report to the death house tomorrow morning. Can you be here by 9am?"
"Yes, sir. Our flight from JFK gets into Jacksonville late tonight. So, we have already booked a room for tonight at my Jacksonville residence.
The Assistant Warden breaks into the telephone discussion with some levity at my expense. "Is your Jacksonville residence the motel I drove you to last August when you faceplanted in the death house from the high heat and humidity?"
"Yes, sir. It's the same motel that I always stay at when I'm in the iron triangle."
The Iron Triangle is a longstanding nickname for the cluster of maximum-security prisons sitting outside Raiford and Starke, Florida.
Florida State Prison or FSP has almost 1,400 solitary cells and the death house.
Union Correctional Institution or UCI is right next door on the other side of the county line. It holds Florida's death row and another 1,200 solitary cells.
There is no air-conditioning in solitary confinement or on death row or — until this year — in the death house. People always ask me, "How hot is it?"
I answer with humor, "As hot as I imagine hell to be, but with higher humidity!"
The more accurate answer is that inside these prisons the summer thermal index, which measures the combined effect of heat and humidity on the human body, can well hit 150 degrees Fahrenheit in August and early September.
Then, last year in August, I spent four hours at cell front in the death house with a condemned inmate. It was the height of the summer heat and humidity.
Despite my efforts to hydrate, I face-planted. Passed out cold, with my face hitting the fifty-years old concrete floor.
The chaplain took me in a wheelchair to the front of the prison and called my wife in Tallahassee. The Assistant Warden then drove me in my car to my motel in Jacksonville. Susan immediately left her work in Tallahassee to drive to Jacksonville. She would follow me home to Tallahassee the next morning on Interstate 10. Over 200 miles each way.
I have heard that the State has now installed a window air-conditioner in the death house for deathwatch. That should keep me from passing out and embarrassing myself again.
On the morning of June 13, 2019, I report to the death house at FSP. The inside walk from the front door of the prison to the death house is over a quarter mile.
In the course of that quarter mile today, I pass several dozen officers. Almost everyone wishes me a good morning and then, tongue-in-cheek, thanks me for getting air-conditioning in the death house. The latter is not about gratitude.
They are letting me know that everyone has heard about my faceplant in the heat and humidity in the death house last year. That is the reason the state has installed a window air—conditioner in the death house. That is the very same heat and humidity that the officers work in and the inmates live in, day in and day out.
In a good-natured response to their feigned concern for my delicate constitution, I smile and laugh, "You are welcome. Sir."
If one has thin skin, The Iron Triangle is not the place to look for a job.
By the end of August 2019, the man whose warrant was signed in June has been executed. No one is expecting another warrant anytime soon. And then it happens.
The Chaplain at FSP calls me at UCI next door where I am handling inmate counseling appointments.
"Brother Dale, we just got us another death warrant. He's one of your guys. He has already been moved to the death house."
"Oh my, no one was expecting that so soon, Chaplain. Who is it?"
"It is James Dailey, and he has asked for you as his deathwatch spiritual advisor and execution witness. Will you do it?"
The condemned inmate's name has left me in stunned silence. I stumble over my words trying to process the shock. "James Dailey, the Air Force Veteran of Korea and Vietnam?"
"Yeah, James Dailey," the Chaplain is speaking softly and respectfully. "I know you just finished an execution, Brother Dale, and if you need a break, we can have him ask someone else."
"No, sir. I have been seeing Jim in pastoral counseling for over 20 years. I can do it, and I will do it. When do I need to come over?"
"How about this afternoon when you finish up at UCI."
When I arrive to the FSP chapel later that day, the Chaplain and I go through the required paperwork and recitation of the strict rules governing death watch. Then he gives me the name and phone number for Jim's ex-wife, Mary Kay.
I will call Mary Kay tonight from my motel room and drive home to Tallahassee in the morning. Susan and I will have the weekend to turn over my laundry and replenish supplies. I will drive back to my Jacksonville Residence on Sunday and start deathwatch with Jim and Mary Kay on Monday morning.
At 8am, Monday morning, I present myself to the security station at the front gate of FSP. The security search of my clothes and possessions is extremely thorough. That is to be expected on deathwatch.
Once security has cleared me for entry, I am escorted to the noncontact visiting park. A long room with a wall down the middle. This dividing wall has a ledge running from one end to the other. The ledge forms a small shelf on each side of the wall where one can set food or drink items, or legal papers or a Bible.
The wall is made of solid material from the ledge down to the floor. From the ledge to the ceiling, the wall consists of bullet-proof, reinforced Plexiglass®.
This room could hold sixty visitors. Today is a death watch visit. There will only be Jim and Mary Kay and me. And the officers on both sides of the wall, of course.
Mary Kay will arrive about 11:00am and will join Jim and me in process. Meantime, Jim and I can catch up.
"So, were you expecting a warrant?"
"Absolutely, not," Jim shakes his head. "I had no idea it was coming now."
"Don't you still have appeals to be heard?"
"Yeah! Major issues still waiting in the courts!" Jim shakes his head in disappointment at the U.S. justice system that he had been willing to defend with his life years ago. "From start to finish this trial has been a total fiasco!"
"I'm so sorry, Jim. You gave us so many years of service in the Air Force in Asia. I cannot believe this is how we treat our Vets!"
"Believe it!" he laughs, "This and worse."
"We've been meeting pastorally for over 20 years, Jim, but I didn't expect this."
"Me neither, Brother Dale, and I still have a ton of issues in the courts."
"Well, I think we need to treat this as a spiritual battle and make full use of the weapons Jesus gave us."
"Now you're talking," Jim's index finger makes a check-off motion that I assume harkens back to his days as Air Force ground crew in Korea and Vietnam.
But before we can start, a loud metallic clang interrupts our discussion. Two officers are releasing the hall door to allow Mary Kay to join us. Many of the families I have met in this room on deathwatch try very hard to keep things light and optimistic to appear strong for their loved one who is scheduled to be killed.
Mary Kay enters with a smile, while focusing with razor sharp intensity upon Jim through the glass. She places her hand on the glass partition. Jim responds with a feeling laden smile as he places his hand on the glass opposite hers. For the briefest instant their hands are immediately opposite each other on the glass. The intensity of the moment defies words.
Then Mary Kay drops her arms to her sides as her gaze slides to me. "Well, Brother Dale, it's good to finally meet you. I've been hearing about you and your wife Susan for a very longtime."
"I'm so glad to finally meet the lady who has been present for Jim through this whole mess."
Mary Kay responds without pause, "Harder for Jim than for me."
"Don't believe it, Brother Dale." Jim shrugs off her compliment. "She's been an angel of hope and mercy for me."
"Well, you're both heroes in my book." I pause for a moment of deep connection, with my right hand on the glass opposite Jim's hand, my left hand on Mary Kay's shoulder. "I don't know if they told you Mary Kay, but spiritual advisors are not allowed any contact with the inmate's family until the death warrant is signed."
"Security!" All three of us simultaneously mouth the same word.
"What would we do without security?" Jim laughs.
"I'll say this much, Jim. I know what you would do without security. You would do exactly the same thing you would do if 100 officers were present."
"You do know my guy," Mary Kay smiles. "He does the right thing whether he is alone or surrounded by security."
"I know it's true, Mary Kay. Jim's discipline is from inside, not from outside."
"So, what am I doing on Florida death row for almost 30 years?"
Jim, what are you doing here indeed!
In the most recent Florida Supreme Court decision on this case in September of 2021, six of the seven Florida justices used procedural gimmicks to avoid making any politically tough decisions or applying any scrutiny to the conduct of the State.
They did not ask: how did the State put a Veteran of 12 years of military service in Asia on death row without any forensic evidence against him?
The crime was horrible. The victim a fourteen-year-old girl named Shelly Boggio. Her nude body was found in Indian Rock Beach in Pinellas County, Florida. She had been stabbed over and over, strangled, and drowned.
Jim Daily rented a bedroom in the same house where Jack Pearcy lived. Pearcy, the original suspect, was tried, convicted of first-degree murder, and sentenced to life in prison.
Evidently, the State wanted a death sentence on somebody for this brutal murder. Whether there was evidence or not. They sent detectives to the jail, left newspaper articles out in day rooms — articles that suggested Jim might be involved in the poor girl's murder.
Sure enough, several inmates from the jail came forward claiming that Jim had confessed his guilt to them. All of them sought favorable treatment in their own cases in exchange for their court testimony against Jim.
In the times before Jesus Christ, there was a biblical death penalty from the Scriptures. Many southern Christians argue that fact to support the U.S. death penalty. But even over two millennia ago, that biblical death penalty prohibited testimony from being given in capital cases in exchange for deals or favors. Six of our seven Florida Supreme Court Justices ignored that wisdom. Only one was horrified.
In the recent September 2021 decision in Jim's case, Justice Labarga filed a scathing dissent.
"In this case, there was no forensic evidence linking Dailey to Boggio's murder, and a significant component of the State's case was the testimony of three inmates who were housed in the same jail as Dailey while he awaited trial … and given the lack of forensic evidence, this testimony was likely essential to the jury's finding of guilt. …
"Dailey's conviction and sentence of death exist under a cloud of unreliable inmate testimony. …
"Ironically, Pearcy, who was convicted by a jury of the murder of Shelly Boggio and who thereafter confessed to the murder and stated that Dailey was not involved, received a life sentence, while Dailey, convicted in no small part due to the testimony of three inmates and without substantial independent evidence, is facing the death penalty.
"While finality in judicial proceedings is important to the function of the judicial branch, that interest can never overwhelm the imperative that the death penalty not be wrongly imposed."
St. Thomas Aquinas, in his Summa Theologica, masterpiece of theology and philosophy, tells us that the execution of an innocent man is intrinsically evil.
Jim, what are you doing on Florida Death Row indeed!
Dale S. Recinella