Pope on abuse scandal in France
A time of shame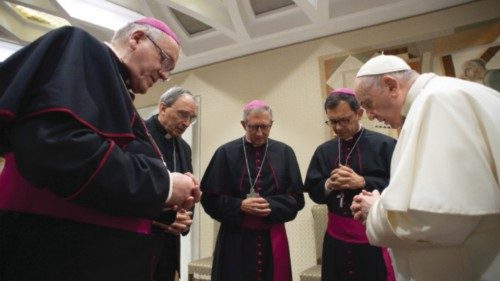 08 October 2021
"Pain" and "shame" were the words used by Pope Francis at the General Audience, commenting on the terrible findings of sexual abuse in the French Church that emerged from the report released by the Independent Commission on Sexual Abuse in the Church (ciase), made public on Tuesday, 5 October. The Holy Father encouraged the French Bishops and religious superiors "to continue to do everything possible so that similar tragedies will not be repeated". Before entering the Paul vi Hall, he prayed in silence together with four French Bishops who were at the Vatican for a meeting on consecrated life. The following is a translation of the Pope's appeal.
Brothers and sisters, yesterday, the Episcopal Conference and the Conference of men and women religious in France received the Independent Commission's report regarding sexual abuse in the Church which was tasked to evaluate the extent of the phenomenon of sexual aggression and violence committed against minors from 1950 onwards. Unfortunately, a considerable number was revealed. I wish to express to the victims my sadness and my pain for the traumas they endured and my shame, our shame, my shame that for so long the Church has been incapable of putting this at the centre of her concerns, assuring them of my prayers. I pray, and let us all pray together: "To you Lord the glory, to us the shame": this is a moment of shame. I encourage the bishops and you, dear brothers who have come here to share this moment, I encourage the bishops and religious superiors to continue to do everything possible so that similar tragedies will not be repeated. I express my closeness and fatherly support to the priests in France in the face of this trial which is difficult but beneficial, and I invite French Catholics to assume their responsibility to guarantee that the Church be a safe home for everyone. Thank you.
Earlier the Pope had continued his catechesis on Saint Paul's Letter to the Galatians, considering the Apostle's teaching on Christian freedom.
Page 8