From the President of the Republic
A change of era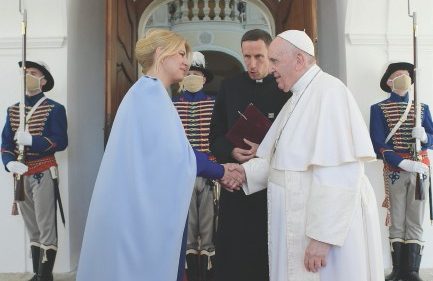 17 September 2021
Slovakian President Ms Zuzana Čaputová welcomed Pope Francis with the traditional expression, "A guest in the house is God in the house" during the Holy Father's encounter with Hungary's Authorities, Civil Society and the Diplomatic Corps in the garden of the Presidential Palace.
In my mind are the following words, she said, today "we are not living an epoch of change so much as an epochal change". After the fall of communism, our country too went through and is still going through, a period of great change, she said. Slovakia is a member of the democratic States of the European Union which gives us important international guarantees for our security and prosperity, the President continued. For centuries, Christianity and the Catholic Church have been part of our cultural identity. Pope Francis offers the Gospel message to our epoch, not only as the heritage of our fathers but also as a journey that transforms our present and points to our future.
President Čaputová then spoke about the importance of cooperation in times of crisis. Indeed, when we face a crisis, all we really need is the spirit of humanity, realizing when we look at anyone of us, that you are me and I am you, and that we are all one. We need to have the courage to express our own humanity, she underscored.