Preparing for 30 July
The power of care to dismantle structures that allow exploitation and slavery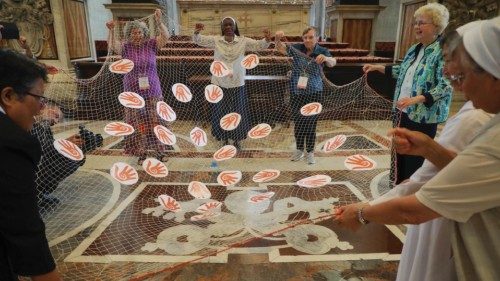 23 July 2021
With the hashtag #CareAgainstTrafficking, the global network Talitha Kum, — which gathers more than 3,000 Catholic sisters and collaborators together in the effort to eradicate human trafficking — invites all the partner religious families and friends from some 90 countries throughout the world to participate in the media campaign in preparation for the World Day set aside against this shameful phenomenon, to be marked on 30 July.
A true and proper "online activation", especially of those social media channels, was launched on Thursday, 22 July in view of UN World Day Against Trafficking in Persons: "Together, we want to tell about a story of care", explains Talitha Kum International Coordinator Gabriella Bottani, a Comboni missionary sister, as she translates the meaning of the words "Care Against Trafficking". "The goal is to show that care can make a difference at every stage of the journey in the fight against trafficking: care for those who are at risk, care for the victims and for the survivors", she adds.
This is why the Twitter, Instagram and Facebook accounts of Talitha Kum are launching the initiative, "Care against Trafficking", updating their banner and profile with the keyword in English. "All the materials such as the logo and photographs are shared by posting stories of the nuns to illustrate the message and amplify it through the web". On the most part, they are testimonials that help describe the power of care, in particular with regards to access to quality education, to work permits and opportunities, to healthcare assistance and to psychological and social support, and justice for the survivors. And as for those who are not too familiar with the social media world, they are invited to send their experiences via email to communication@talithakum.info. The Coordinating Office will then disseminate them from the headquarters of the International Union of Superiors General in Rome. Even if, the coordinator points out, "participation in the campaign is possible from all local channels, so that more people can be reached and a greater impact achieved".
"Human trafficking is an open wound on the body of contemporary society", Pope Francis said in his address to the International Conference on Combatting Human Trafficking, on 10 April 2014. This is why "we will not remain in silence as people in every corner of the world suffer as a result of due it", the Comboni Sister said.
The Sisters of Talitha Kum know this well. In Pattaya, Thailand, one of the main destinations of sexual tourism, they offer training courses in hairdressing and in massage to young women snatched away from the prostitution market, so that they may find dignified employment. "Fuelled by the strength of spirituality, we have helped tens of thousands of people who escaped violence find a path to rebuild lives, dignity and freedom. And we dare to go one step further in our journey of care: we want to create sustainable and long-term change to dismantle the structures that allow oppression and exploitation. In order to face this global challenge and find systemic solutions, we recognize that we have to work with organizations in the private sector, governments NGOs and civil society. We need to transform the economy of trafficking into an economy of care that will allow everyone, especially women to promote thriving and safe communities. This is why we ask all people of goodwill to unite together to tackle the systemic causes of this phenomenon, and governments to sustain the survivors long-term, guaranteeing them education, formation, justice and compensation and medical and psychological assistance", she concludes.
Gianluca Biccini