In Pakistan a unique children's library carried on a camel's back
Roshan's precious cargo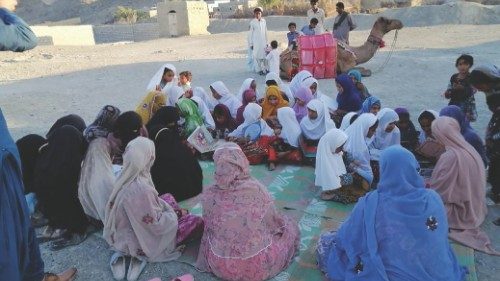 16 July 2021
It is a precious cargo that Roshan the camel carries through the desert of south-western Pakistan: it contains books destined for children who cannot attend school due to the pandemic. Since March of last year some 50 million students have had to follow their lessons at home. It is not an easy thing, however, in places like Balochistan, where in many villages Internet access is almost non-existent. And so Raheema Jalal, the headmistress of a high school, along with her sister, thought of starting a travelling library, the "Camel Library". She wanted the children of her remote birthplace to continue studying despite the school closures.
Since last August, three times a week Roshan has been carrying books in four villages in the Kech district. And when he arrives it is a celebration for the children, with whom the teacher stops for a couple of hours, reading with them. Thanks to the cooperation of two NGOs, the Female Education Trust and the Alif Laila Book Bus Society, Jalal hopes to be able to expand the project to reach more villages, but she needs funds to do so: the 118 dollars per month needed to maintain Roshan.
Murad Ali, the camel's owner, says the headmistress' request took him by surprise, but he thought it would be the best means of transportation in that desert territory, scarcely populated and among the poorest in the country.
Gaetano Vallini