This month's interview
A Women's Ability
for Diplomacy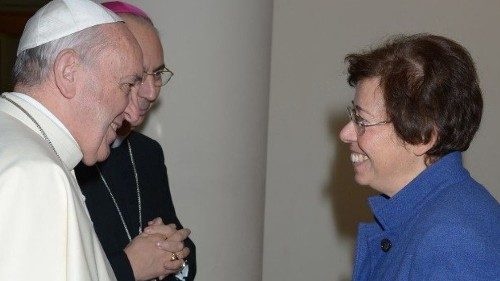 06 March 2021
Undersecretary, Dr. Francesca Di Giovanni: implementing the Pope's wishes on the role of women takes time, and patience

A woman, and an expert in the multilateral sector, her name has become known well beyond the Leonine Walls since her appointment by Pope Francis in January. Francesca Di Giovanni occupies a managerial position within the Vatican Secretariat of State of the Holy See. As the Undersecretary for the Multilateral Sector of the Section for Relations with States, she is one of the four women mentioned by the Pope in his book Ritorniamo a sognare [Let's Dream Again] where he details his female appointments. However, Francesca Di Giovanni experiences her condition with great simplicity: "My appointment, on January 15, 2020 by the Holy Father, surprised me because until then there had not been a woman [to assume the role] as Undersecretary in the Secretariat of State while in other dicasteries there had been. The Secretariat of State is an office at the direct service of the Holy Father, and which deals with very complex and delicate issues. Previously, a prelate held the role in a diplomatic role. Therefore, undoubtedly, it is an innovation, even though I have continued since the day of my appointment to work in the sector in which I have been working for 27 years and which is familiar to me. Only the position has changed".

In your opinion, did your appointment constitute an important indication regarding the professional contribution of women in the Vatican? There has been talk of an unprecedented step forward.
Yes, I think this is a sign of the Holy Father's significant attention to the role of women in general and therefore of greater attention to the contribution that women can make in the Vatican and in various fields where the Church operates too. For some time now, there have also been women who have been delegated to follow negotiations on behalf of the Holy See, or who have been turned to for their specific professional or scientific preparation. Undoubtedly, since I entered the Secretariat of State, much has changed and the female presence has gradually become more widespread.
When he speaks of the need to acknowledge more space for women, Francis adds that it is not just a "functional" issue, of assignments. Have these words aroused misunderstanding, or perplexity? How do you see things?
It seems to me that Francis' intention is not to relegate women to a subordinate role but to recognize that there are different tasks in the Church. When he speaks of associating women with decision-making processes, there can be no doubt [about this]. Logically, I think that the Holy Father's will is going to require time and patience to be fully realized, and that it requires a greater knowledge of the contribution that can be given to each other. Work within the framework of the Church, and perhaps even more so in the Vatican, regards a discourse that is not only technical and linked to particular professional skills, but presupposes a knowledge and a sharing of the doctrinal and ethical aspects of the Church. In my opinion, a desire and a concrete commitment to translate these high principles into a tangible reality and I would say "cordial and choral" performance of daily work. The Holy Father has also asked experts, theologians, jurists to study the roles that women can play within the framework of the Church, which I hope won't take too long. However, underlying this, it seems to me that we should all ask ourselves about the tasks of responsibility within the Church, which are always tasks in service for the Kingdom of God and for our brothers and sisters. On the one hand, we want to avoid clericalism, but, on the other hand, we must not settle for a terrible form of feminine clericalism either.
Can it be said, "Women's empowerment is part of a larger vision of God's people, where common baptism is central?
We are in this process. There are still so many riches from the Second Vatican Council that we should implement, so many indications. I think that a responsibility in one area or another is linked more to the task in hand than to the fact of being a man or a woman.
You deal with the multilateral sector, which is a priority for the Holy See. Is the fact of being a woman a benefit in this field? Is there a "feminine" way of approaching negotiations, confrontations and the search for solutions?
First, it is said that multilateralism is in crisis today. Even the very function of multilateralism is called into question by the shadows of a closed world, as the Pope says, by nationalisms, by the selfish interests that have emerged especially in recent times. On the other hand, almost everyone is equally aware that multilateralism plays an essential role. In this context, the role of the Holy See is important because within the community of nations and at international organizations it promotes peaceful and just relations between States; both with regard to relations between States and with regard to major issues.
Even though we should not generalize, to answer your question, a woman may have certain aptitudes for finding common ground on areas that ensure the wellbeing of relationships. These may include, for example, sensing paths of dialogue, sensing where to intervene and creatively seeking unity, but also with a certain stubbornness!
Do you have the impression that women in the Roman Curia still have difficulty getting their ideas accepted? Is the mentality changing, or will it take much longer still?
I think that the ability to listen to women - and not only women - by those who hold positions of responsibility in the Vatican depends on many factors, particularly the training of priests. As far as I am concerned, I have always found a great openness. In other situations, the experience may be different, and I do not doubt this. It seems to me that in these cases, results can be achieved with open and competent cooperation.
What are your main fields of action, your most important concerns at this particular moment in history?
Many of the issues that we follow in the context of multilateralism are actually interlinked. If we consider the pandemic, for example. We also have to think at the same time of the increasing poverty, and food shortages. On the other hand, when we think about the exploitation of raw materials and the natural environment, we should also consider corruption, or the violation of human rights. Then, this year in particular, Countries are faced with very important decisions for the very survival of human life on the planet because of climate change. In November this year, Cop 26 will be held. Here too, the Holy See is making a very decisive and generous commitment. There are very delicate questions to be defined in the field of nuclear disarmament. In addition, Pope Francis – as we saw with the Fratelli Tutti (All Brothers) encyclical - sees humanity as a family that protects and saves itself when it is united.
The pandemic has accentuated violence against women, particularly within the family. Is the fight for women's dignity part of your work?
To ensure that women's rights and dignity are fully respected is a commitment that we have made very firmly. We live in a society in which people rightly demand equal rights, access to progress, knowledge, work, as men; but, on the other hand, examples of absolute contempt for the dignity of women are put forward. There are times when those who have chosen motherhood and the family freely are mocked in the face of other, more attractive choices from a professional point of view. Other professionally capable women are prevented from reaching an appropriate position or adequate remuneration. Here I would like to recall the immensely important work carried out by many women religious throughout the world to help those women who have been abused, enslaved, and forced into prostitution. They do this very often in silence and at great personal risk. In addition, there is also all the education and training work that the Church does. Because this too is an important tool for combating violence and abuse.
What is your wish, your hope, your view of faith regarding the current situation?
I really liked the encyclical Fratelli Tutti. The Pope has placed before us a beautiful goal, this universal brotherhood, which logically, includes women and men, for Saint Francis did not exclude anyone! It is a commitment that begins to daily life, in the relationships that each of us have, and then extends it to the areas of professional or social commitment where we find ourselves, at whatever level. Logically, in the current situation, this is not easy, we cannot hide it and be naïve, but we have a goal and a great hope, for which we are also responsible.
Moreover, I have faith that if we try to do our small part, God will do the rest if we let Him.
by Romilda Ferrauto