Film
To be mother, or Mother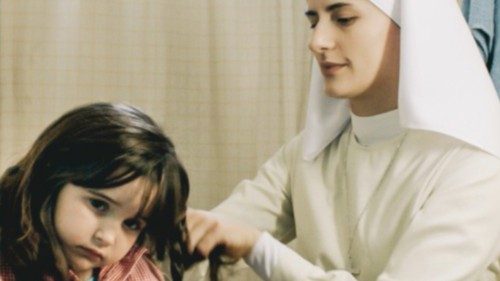 02 January 2021
The new nuns told by women in cinema

When cinema decides to tell a nun's story, it often risks stumbling into stereotypes, which are either that of sexually repressed women, heartless creatures, or happy singers. The film Maternal directed by Maura Delpero, which has been applauded by international critics and received awards at about twenty festivals, avoids them. Set in Buenos Aires in a hogar, a house-shelter for adolescent mothers run by nuns, the film has as its protagonist a novice (played by the mesmerizing Lidiya Liberman) who, while waiting to take her perpetual vows, establishes a profound emotional relationship with a little girl abandoned by her estranged mother. This strong and instinctive bond does not escape the superior, who is worried that it might call into question the vocation of the young nun, is in turn torn between her feelings for the little girl and her desire to consecrate herself to God. Born in Bolzano, but with a "transoceanic" education (she studied in Europe and Argentina), 45 year old Delpero, whose past includes being a notable documentary filmmaker, tackles a theme that has never been investigated by cinema. The relationship between women and the motherhood they have chosen to renounce by taking the veil. The director does so elegantly and with sensitivity and depth, giving the audience a new perspective on a world that is often judged as morbid or prejudiced.
How did you get the inspiration for the film?
I started out with the idea of telling the story of the coexistence between nuns and very young mothers. In order to get to know that reality up close, I lived in a "hogar" in Buenos Aires, teaching cinema to the people hosted there. One day, while watching a young nun picking up a newborn baby from its cradle, in her eyes I caught a thrill that was not simple Christian charity, but something more intimate and primordial. This was an inspiring vision that prompted me to change the theme of the film, and shift it to the relationship between a nun and her maternal instincts that surface to the forefront.
How did you prepare to tackle such a complex and under-researched topic?
I talked to some nuns. I discovered the extent the flawed fictional clichés about them actually is. Too much importance has always been given to their renunciation of sex, but a woman who takes the veil has already come to terms with this aspect of her choice. Instead, at times, especially if she entered the convent at a young age, she does not consider the possibility that the maternal instinct may manifest itself, bringing with it an inner conflict, a dilemma to be resolved.
Did the nuns agree to talk to you about these intimate issues?
The maternal relationship is usually taboo, but the nuns I approached trusted me, and admitted with sincerity that this dilemma had arisen. Almost all of them had confronted it, and resolved it in the convent, on a spiritual level. Nevertheless, I met one who, in order to become a mother, had abandoned the veil.
Did you go to a school run by nuns?
No, priests educated me. Today, I consider myself agnostic but I grew up among masses, rosaries and the scent of incense.
Did you show Maternal to the nuns of the house-shelter where you found inspiration?
Yes, and it was emotional. I was afraid that they would reject the film considering it as being too brutal. Instead, they were happy, and recognized themselves. One more reason to dispel false myths is that nuns, especially those who do social work, are immersed in reality.
Do you think society has a distorted view of consecrated women?
There are prejudices that are the result of ignorance. The choice to enter a convent is usually associated with a renouncement of the world. No one considers that behind every vocation there are profound motivations. A cynical society sarcastically welcomes the blissful smile of certain nuns, but their pacified expression is usually a sign of their adherence to a great plan, to seek a superior, unconditional love that cannot be found in the world.
What did the experience of the film leave you with?
It reaffirmed that our view of consecrated persons is often dictated by ignorance. We lay people presumptuously, judge without knowledge, and we tend to generalize. However, in the mystery of the vocation some knowledge is precluded to us. Moreover, this fact we just have to accept.
by Gloria Satta