The Ideas
The richness of the Church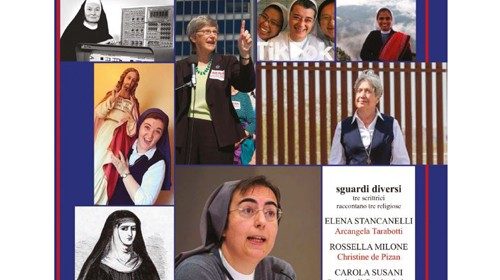 02 January 2021
In Women Church World this month, we have not recounted who the nuns are today; we could not have done so. The religious make up three quarters of the Church, and are her backbone, and her soul. They are scattered over the five continents, and perform the most varied functions.
This issue's objective is somewhat more limited, but nonetheless important. This month, we have highlighted the gap, understood as the contradiction between the reality of women religious and the way they are still widely misperceived throughout the secular world, and the Church. This reality oscillates between a collective imagination made up of literary, historical, cinematic and TV constructs, and the concrete role they play in society. In sum, the contrast between their presence in modernity and the backwardness by which they are still attributed.
In these pages, the reader will find stories of the new nuns, whom are religious women living out their vocation in the world, and who have not refused the gifts of progress. In fact, on the contrary, they both make use of this progress, and are able to reconcile these developments with prayer and meditation. These nuns make their silence in the cloister productive, which makes for renewed comfort to those who suffer from the use of technology.
Above all, the reader will discover a break from the image of a subordinate and marginalized person; forced by her family, then silenced by the ecclesiastical hierarchy, and excluded from the social, cultural and economic centers of life.
This is no longer the case. The nuns of Monza, for example, who are husbandless women and who have chosen religious life as a fallback. Instead, the young women forced by their family to enter the convent, are part literature, and part history, but nonetheless confined to the past, and certainly not representative of the present. In stark contrast, the women religious in these pages are evidently at one with the contemporary.
The road, which hitherto had been traveled along by those nuns who hold roles of excellence and occupy decisive managerial positions in society, is different today. In addition, these nuns and sisters have built the pillars of a modern vocation. The reader will find, because it is nonetheless important to remember, how they have been represented in literature, in film, and TV until recently.
We have the impression that even in ecclesiastical hierarchies, there are those who have not noticed the change; and there are those who are afraid of it. There are those who do not want to welcome the new richness that comes from the world of nuns and sisters, who prefer to think of them in outdated modes. The fear of women has shown itself in history and in the history of the Church in different ways. Today, it is manifested when eyes are closed to the change that is already here, from which the Church could be enriched. For the good of all. Not only that of women. [DCM]