Pope's Interview with Canale 5
The world needs
unity and fraternity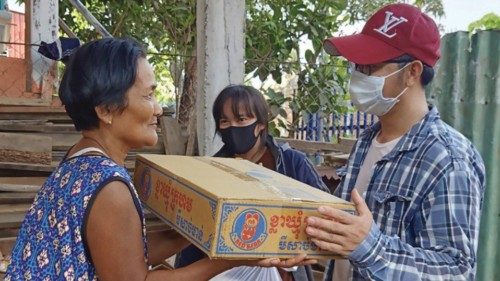 15 January 2021
In an interview with Italian Television's Canale 5, which aired on Sunday evening, 10 January, Pope Francis shared his views on several current issues and highlighted the importance of rediscovering unity, closeness to those who suffer, and fraternity in order to overcome the global crisis caused by the pandemic. He pointed out once again that we are never the same after a crisis: we either emerge better or worse. Although there are always great values in the world, he said, these should be translated into the historical context of the time. The Holy Father then listed a series of tragic situations including children who suffer from hunger, children who cannot attend school, the many wars raging throughout the world, describing un statistics on these matters as "frightening". If we emerge from the crisis "without seeing these things", he noted, then we would be emerging in defeat and things will be worse.
Vaccination: an ethical action

Responding to a question on vaccination against Covid-19, Pope Francis said he believes everyone should agree to be vaccinated from an ethical point of view. "It is not an option; it is an ethical action, because you are playing with your health, you are playing with your life, but you are also playing with the lives of others". Now is the time to think about "us", rather than our individual selves, he stressed, adding that the Vatican would shortly begin administering vaccines and that he was scheduled to receive one.
It is the "time for 'we'" in order to overcome the crisis

"Indifference kills us because it distances us", he said. The keyword to emerge from the crisis is "closeness". Lack of unity and of closeness creates social tensions within States. At this time, "a politician, a pastor, a Christian, a Catholic even a bishop, priest who does not have the capacity to say 'we' instead of "I" is not rising up to the challenge". Although "conflicts in life are necessary", he continued, at this time they must make room for unity "of the country, the Church, society".
Abortion is first a human issue then a religious one

The Holy Father stressed that the crisis created by the pandemic has exacerbated the "throwaway culture" with regards to the weakest ones including the poor, migrants and the elderly and especially children who are victims of abortion. "The problem of abortion is not a religious problem, it is a human problem, pre-religious, it is a problem of human ethics", he said. "Is it right to erase a human life to resolve a problem, any problem? Is it right to hire a hitman to solve a problem?".
Capitol Hill, lessons from history: never violence

Asked to comment on the tragic events that occurred at the US Capitol on Wednesday, 6 January, the Holy Father said he had been "astonished" considering the discipline of the people of the United States and the maturity of their democracy. However, he added, there is always something wrong when "people take a path against the community, against democracy, against the common good". Francis condemned the violence and warned, "we have to reflect and understand well" in order not to repeat but rather "to learn from history".
Faith, a gift to be asked from the Lord

Lastly, the Holy Father spoke about his personal experience of the restrictions resulting from the pandemic. He said he feels "caged in", citing trips that were cancelled to prevent large gatherings, and expressing his hope that he will be able to visit Iraq. He added that these days he dedicates more time to prayer and speaking on the telephone. He then offered a reflection on faith. "For me faith is a gift; neither you nor I nor anyone can have faith by their own strength: it is a gift that the Lord gives you". Referring to a passage from Deuteronomy, he said we should invoke the "closeness of God". Pope Francis concluded the interview by expressing his hope that "there will be no selfish attitudes" in 2021, and that unity may prevail over conflict.