The 'Calvary' of Ethiopian domestic servants in Lebanon
Dreams of returning home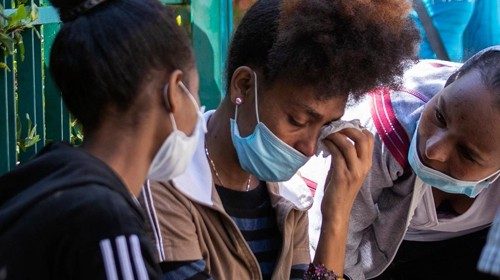 27 November 2020
Keeping your job in the time of coronavirus, when you come from a poor country and work as a domestic worker in a country that is in a situation of profound economic crisis and social tensions is a difficult undertaking. This is how many Ethiopian women lost their housing and wages due to the pandemic and found themselves having to live on the street after being pushed out, without being paid, by the families they were working for. They came to the land of cedars to find work, were left empty-handed, and could no longer return home because the airport of Beirut had been closed and bureaucracy around re-entering their country was long and complex. In the worst phase of the spread of Covid-19, many of them set up camp in the Lebanese capital near the Ethiopian Embassy, as they had no means to return to their homeland. Most were between the ages of 20 and 30, but there were also many minors among them. Although they do not have passports, they still want to go back to Ethiopia despite knowing they will not be warmly welcomed, given that their families took on debt in order to send them to work abroad.
The phenomenon of Ethiopian maids in Lebanon is complex and often verges on exploitation. There are no protections for these workers. Most employers hire them through the "kafala". Under this system, the country of arrival assigns a sponsor — in other words, the employer — to the women who wish to immigrate to work, and this sponsor fronts the expenses for their work permit and is responsible for their visa and legal status. Caritas and several other NGOs want to fight this system because these sponsors essentially end up having limitless power over their employees, which often manifests in sexual violence, unwanted pregnancies and abuse, among other things.
In the meantime in Lebanon, there is an increase in organized crime due to people's desperation over the high cost of living. For the young women from the Horn of Africa, it is easy to fall into the web of the underworld and be exploited. The Italian NGO "Volunteer Communities for the World", has provided assistance to some 650 girls, who have been repatriated. Thanks to the project "Secure women migration cycle" — financed by the Italian Agency for Development Cooperation, which depends on the Foreign Ministry, and established in cooperation with Caritas Ethiopia, Caritas Lebanon and the Italian Lay Missionary Centre — the former domestic workers have been able to return home and receive support from a network of professional volunteers, who have been helping them from the moment of their return until today.