Fr Luke on the island of Rhodes
A pastor for refugees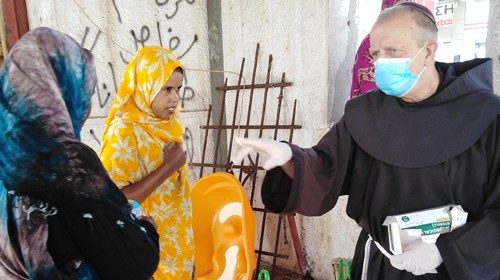 20 November 2020
Do you speak Italian? "I am more Italian than the Italians!" This is how Fr Luke, a parish priest, introduced himself. He is a Franciscan ministering on the islands of Rhodes and Kos. And indeed when speaking to Father Luke I noticed he has all the typical ways of native Italian speakers: the gift of gab, lively gesticulation, pleasant facial expressions, and the floodgates open when I inquire about his mission to refugees, quite the contrary of that stereotypical reserved, somewhat impassive manner of the British. Yet Fr Luke Gregory really is English, born 62 years ago in Sheffield, the cradle of the industrial revolution in South Yorkshire, just above the Midlands.
What is an English Franciscan doing in Rhodes? "Actually, I belong to the Custody of the Holy Land, whose jurisdiction has always, as is well known, also extended into some areas bordering the land of Jesus, such as Rhodes. I arrived here somewhat by chance", he says, "after having served in Jerusalem and Bethlehem, and from obedience, I have been here for many years now. Perhaps because originally I too come from an island, but I felt at home right away on this island, and today, I'll tell you: I could not imagine myself elsewhere".
For many years many people have looked toward the beauty of Rhodes: "Fr Luke is an extraordinary person, you'll see". And in fact, from our first contact I could see the prediction was spot-on. If you expect to find a missionary who sadly tells you about the many tribulations of the poor people he helps, you will be disappointed. Fr Luke has the extraordinary ability to navigate between true pain and despair while maintaining an approach that is always positive, full of hope and good will, joyful in the Franciscan sense. And his character is certainly the most important element of the charity that he dispenses with both hands. "Yes, I bring them a lot of things they need to live" — he says, speaking of the refugees — "but what makes them happier and more grateful is that I spend time with them, listen to them, talk to them, offer them a word of hope. It is important to understand that the first and most difficult thing a refugee has to suffer is loneliness, the feeling of strangeness you feel when you are in a land that is not your own. Far from your home, from your birthplace".
But tell us a little of your life before, Fr Luke. "I went to school in Sheffield, where I learned to love the classic Greek and Latin languages and cultures. I never would have imagined that my love for ancient Greek would one day be useful, living on a Greek island full of history. I then moved to London for university; I enrolled at the prestigious King's College. But before I began university, as a gap year, I decided to take a course in Applied Social Science. It was a course that included a lot of field experience, so I found myself coming to know for the first time in my life many marginal realities that I did not even imagine existed. The homeless, the sick, various forms of addiction, contact with a world that touched and changed me deeply. While continuing my classical studies with a passion, I realized that my life was beginning to take an unexpected path, that of a vocation at the service of the poor, the discarded, the least. Galeotto was on a pilgrimage accompanying the sick to Lourdes. There", Fr Luke continues, "I met a Franciscan friar who fascinated me very much, telling me about the 'fifth Gospel': the Land of Jesus. So I went to Jerusalem and there I discovered the link between my passion for the ancient world, the historical truth of Kerygma, and life dedicated to others. I found myself naturally, so to speak, a Franciscan novice in Ein Karen, the village of the Baptist; and then in Jerusalem to study theology.
I spent some very happy years in the Holy Land; I was a cantor at the Holy Sepulchre, a secretary of the Custody, and then in Bethlehem during the very difficult time of the second Intifada. I lived the beauty of the ancient liturgies at the Holy Sepulchre, but also the terrible aspects of human suffering in the Occupied Territories". As we talk, Fr Luke walks around the friary garden proudly showing me his crops. "Here there were some beautiful roses. I took them out and now there are these, which are even more beautiful", and he shows me a row of zucchini, tomatoes, lettuce, eggplants. "Refugees need food more than roses! And then, I must tell you, I am an enthusiastic supporter of Pope Francis' Laudato Si' . Here you will find ecology in practice: we recycle everything; we preserve water and energy; we don't use plastic; we have our animals; we go almost everywhere on foot".
We return to the friary which once housed dozens of friars. "I'll introduce you to my lovely little pet Percy". I imagine that in the island evenings the friar keeps the company of a faithful dog or an affectionate kitten. I am therefore open-mouthed with amazement when I meet Percy: a splendid python, a couple of meters long. Fr Luke doesn't seem at all surprised by my astonishment, and remaining angelic — and rather British — he impassively explains to me: "Percy, Perseus: like the son of Zeus and Danae, but also like the constellation between Andromeda and Auriga".
The turning point in Fr Luke's life happened just 10 years ago, with the outbreak of civil war in Syria. Many fled from the bombs, and Rhodes is one of the safer and closer harbours where the rubber boats of the desperate can make port. They would arrive in the hundreds and then thousands during these years. And they would always find Fr Luke, even at night, waiting to welcome them, refresh them, and support them. "Actually I have never wondered what I should be doing. It is natural to welcome a brother or sister, who flees. There really is little to think about, isn't there? I don't ask them anything but they themselves tell their stories and their faces speak volumes. I bring them food but also shampoo, soap and razors. I stock up in the local supermarkets, inaccessible to them. I buy things with the money sent to me by the Father Custos, the Commissariats of the Holy Land, and from Italy, the generous donations of the Pro Terra Sancta association. In the summer months when there are many tourists on the island, I tell them: 'Before you depart, leave anything you can, even opened containers of toothpaste or bodywash, slippers, the food you haven't eaten: here everything is useful'". He continues: "I try to help them in every way I can, except for transit procedures. I don't want to interfere with the work of the local authorities, and they in turn leave me to do my job, even if at times they try to prevent the landings. After the first arrivals I decided to go to Syria, to my confreres in Aleppo and also to Damascus, to become better aware of the situation they were fleeing. I saw devastation and despair like never before. Today the origin of refugees has changed: there are fewer Syrians, and more Africans from the north and the Horn of Africa, and especially many Palestinians fleeing from Gaza. With the Palestinians I feel at home again. At the moment", he continues, "there are about 250 refugees on the island; they are camped out in a warehouse, in what was once the slaughterhouse for the island: a terrible symbol. I do what I can; I try to help everyone. Many are Muslims and it seems not to matter at all that I am a Catholic priest; they seem to be very fond of me. During the Islamic holidays I prepare typical sweets in order to help them feel less far from home. On the other hand, here in Rhodes solidarity makes everyone brothers and sisters. I have an excellent relationship also with our Orthodox brothers and sisters and also with the Protestants. We have set up a chapel on our premises for the Lutheran pastor so they can celebrate their liturgy". Fr Luke continues to work even while he is speaking to me; he seems to never tire. "Do you never tire of doing good?", I ask him. "No, I feel I am a fulfilled man: what is it that could possibly make you happier in life than to see the results of the good things you are trying to do?".
And by now Fr Luke's efforts are well known even beyond the confines of the island and also outside the ecclesial circuits, earning solidarity, support and also gratitude. So it was that the President of the Italian Republic, Sergio Mattarella, wanted to express his appreciation for Fr Luke's work with refugees, honouring him with the title of Knight of the Order of the Star of Italy. Patrizia Falcinelli, the Ambassador of Italy in Athens, says Fr Luke is a profound connoisseur of the eastern Mediterranean and of the tensions associated with it. "As well as being an extraordinary example of dedication and generosity in his work in favour of the needy, refugees and migrants, Fr Luke also represents a fundamental point of reference for the Italian community in Rhodes and for the promotion of Italian culture and values on the island. This is why the President wanted to honour him with this recognition, at the recommendation of the Italian Ambassador to Greece".
He seems quite surprised by all this fame: "There is nothing extraordinary in what I do: welcoming the foreign refugee is a duty not a merit. For everyone. And so, when this pandemic ends, plan a holiday to Rhodes: this place is so beautiful, and perhaps you can give me a hand". And, bidding farewell, he saunters away with Percy coiled affectionately around his neck.
Roberto Cetera