A memorandum
Women and faith at the Naudet Library in Verona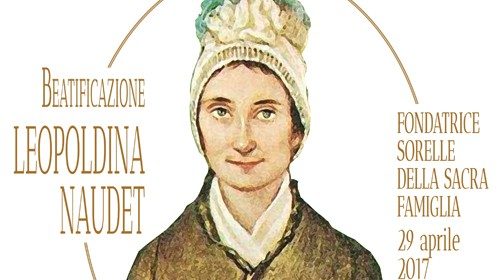 29 August 2020
Born to a French noble father and German mother, Florence 1773, Leopoldina Naudet was beatificated in 2017. It took almost two hundred years for the city of Verona to overcome the prejudice of estrangement, and finally recognize her role, and begin to discover the wealth of the library named after her. Founded by her in 1816, Leopoldina Naudet bequeathed to the Institute of the Sisters of the Holy Family an absolute jewel of almost two thousand titles from the XVI-XVIII centuries. Over the years, to these have been added theological, ecclesiological, patristic and Church history texts, to reach a total of about twenty thousand books today. The Library, which since 2015 has been open to the public and has been staffed by competent personnel and a librarian, is now included in the Pole of Ecclesiastical Libraries. The superior of the Order, Sister Rita Boni comments " It was very nice to see this growing visibility, achieved with difficulty over time because Leopoldina, when she had just arrived in Verona in 1816 and until recently, was considered a foreigner. Her beatification has given impetus to this process of knowledge, of bringing the city closer to such an important figure for the evolution of women and to the library itself".
It was not love at first sight for Naudet, but a slow process of falling in love with Verona. The spark came two years ago, when Adriana Valerio former professor of History of Christianity at the University Federico II of Naples (on page 25 her article on Bridget of Sweden), donated about 1,500 texts on women and faith. It can be difficult to part with books, a painful tear; "but then I thought - the theologian says - that they would have their own life and that they would not die with me. In the Naudet Library, they have their own place, they are valued, and they constitute a patrimony that is made available to all. And then I hope that my gesture can be emulated by others".
In the meantime the visitors come, and the training courses for girls between 18 and 29, the reading groups have begun. On the other hand, to talk about Leopoldina means to talk about books. She knew three languages and frequented court circles, had was very attentive of the cultural ferment of the time and when she arrived in Verona to establish the Institute Sisters of the Holy Family. She dedicated herself to the training of young noble girls, while offering the possibility to study to even the poorest girls, guaranteeing an excellence of studies to all. A process of transformation that involved Catholic women in the early 1800s, in search of new models of religious communities. It is this trait that has made her modern, contemporary and finally a protagonist, together with the Library, of Verona and society.
by Lilli Mandara