Faces of the Church
Rix the Seminarian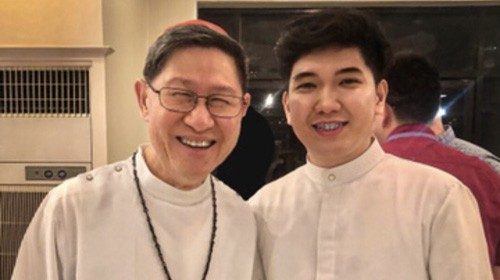 28 August 2020
In the Philippines a young seminarian gains massive following with web videos on God and the Church

One of the merits that our little but great newspaper can boast about is being, despite its name, the only paper in the world that is read every day on all the continents. Thus it can happen that a piece that tells a rather local story can actually inspire reactions and comments from the other side of the globe. This is what happened several weeks ago in this very column of our daily edition when we told the story of Fr Alberto Ravagnani, the young priest from Milan who became an internet star during the pandemic. The day after its publication we received at least a dozen reports of people who, like him, have chosen the path of the new media for their work of evangelization, and they do so with similar originality. From among them we have decided to tell the story of a young Filipino seminarian whose successful internet presence has gained him thousands of followers on Facebook and YouTube.
"My name is Enrico Macrohon but by now everyone knows me as 'Rix the Seminarian'", he says, the name he uses in his videos, which are often bilingual, in Tagalog and English. "I was born 26 years ago in the province of Nueva Ecija, about four hours from Manila, and now I'm here at the seminary in my second year of theology at the University of Saint Thomas, almost at the end of my studies". He says that his family is by no means religious. His parents were both artists who separated early and went to live abroad. He doesn't think his siblings have ever entered a church. Perhaps he says, it is precisely because he grew up in such a family that he developed this intense desire to devote himself to evangelization and to proclaim the immense mercy of God.
He had the good fortune of growing up with his grandmother Lourdes, he explains, who is a woman of very deep faith. She began taking him to church when he was just three years old and her accounts of the Gospel sounded like a beautiful fairy tale to his young ears. Early on, even before Rix had learned to read and write, Jesus became his "little friend". He says he is indebted to his grandmother for the man he has become, as well as for the "important role" she played in his vocation to become a priest. As a boy he was quite drawn to the sacred liturgies, the singing, the sound of the organ, the smell of the incense, but as he matured, he moved on from the aesthetic aspect, becoming more and more rationally intrigued by the mysteries of the faith. He learned to play the organ and the parish priest entrusted him with the direction of the choir; his attraction for music came naturally. After all, he says with a smile, he is still "the son of artists".
His decision to enter the seminary came just as naturally, although the experience was more difficult than he had imagined. While he developed a passion for studying philosophy, he also found that it aroused in him a spiritual withering and doubts. However, he was successful with his studies and after five years earned a degree in philosophy. At that point he asked to leave the seminary for a time, partly to clarify his ideas and partly because he was intrigued with teaching philosophy at the university, and in fact did so. It was there that his passion for videos began. He conceived a novel idea for exams: rather than producing elaborate writings he asked his students to record short videos on the subjects of the exams. It was a fun and very interesting experiment, but inside, he says, his vocation to be a priest never waned. In this case too, like his grandmother during his childhood, another woman was of great spiritual help. A Franciscan nun, Mother Margaret Gasal, wisely and lovingly supported his return to the seminary in the Diocese of Parañaque. He had inherited a certain artistic talent from his parents, and video making has been his favourite hobby ever since he was a child. So, he re-entered the seminary but wondered, why not put these talents at the service of the Kingdom? After all, a gift received is a gift to give back, right? And then, it bears noting that in the Philippines no one in the Catholic Church had ever sought to evangelize through the new media. However, the Protestants had: there is a long tradition of preachers, especially on television, of Protestant churches and sects, who often speak in apocalyptic tones. Rix, however, wanted to do something different: to explain the faith of his Church with a new style, that is, capable of fully expressing that existential joy that is or should be the hallmark of Christian life; and above all able to speak to young people. So, two years ago, he put his first video online, in which he tried to explain, as opposed to Protestant use, why Catholics used artistic images and sculptures in prayer. He called himself 'Rix the Seminarian', in an unrealistic attempt to guarantee himself a certain anonymity. Three days later he turned on the computer and almost fainted: more than 100,000 people had viewed and "liked" his video. One hundred thousand. He immediately thought that it was as if he had spoken simultaneously in 300-400 filled churches. More than happy, his hands were shaking at the thought of the responsibility it implied.
Rix's videos are quite different from those of Italian priest, Fr Alberto Ravagnani. They each have a certain quick, rhythmic, musical style and "pop" language, both verbal and non-verbal. However, while Fr Alberto aims more at questions of meaning, the character of Rix the Seminarian's videos is decidedly more apologetic and also offers some devotional cues. After all in the Philippines, pastoral ministry has always had a tradition of direct transmission, characterized by joy and simplicity. For example, consider the extraordinary communication skills and empathy that distinguish Cardinal Luis Antonio Gokim Tagle, Prefect of the Congregation for the Evangelization of Peoples. Rix considers him his teacher: "To me he is a legend". Both my rector and my bishop, says Rix, seem happy with his work, although they rightly remind him that it should only come after his studies, his life of prayer and his community life. Rix always reminds himself not to flatter himself and to remain humble at heart. Because his videos are being widely disseminated: many priests and bishops are sharing them on the web pages of their own dioceses.
When young Rix was asked what he would like to do "when he grows up", he said he has many dreams. At the top of the list is definitely the desire to be a good priest and to always do the Lord's will. And then, he said, "I would like to come to study for a licentiate in theology in Rome, to be able to meet Pope Francis to tell him that I pray for him and support his work in reforming the Church. And maybe even to make a few videos with Fr Alberto".
Roberto Cetera