Patroness of Poland and Lithuania
Kinga, the chaste queen at the service of the poor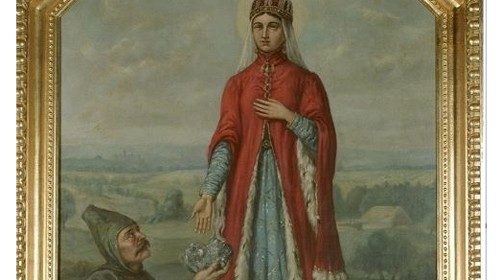 29 August 2020
From the faraway days of medieval princedoms and dynastic alliances comes an example of a woman of outstanding determination and powerful personality, radical piety and action. A saint who left behind no personal records or pious texts, whom we know partly from documents of her time, but above all from legend and the cult that developed around her from the Middle Ages.
Kinga (Kunegunda) was the daughter of Bela IV, King of Hungary and his wife Maria, the daughter of the Emperor of Byzantium. The chronicler Jan Długosz tells us that she was brought to Poland in 1239, aged five, by Salomea, the sister of the Prince of Sandomierz, then thirteen years old, who was to become known as Bolesław the Chaste. Kinga was destined to be his wife, though the wedding did not take place until around 1247. The marriage was part of a strategy by the Bishop and lords of Cracow, who hoped it would strengthen the alliance with Hungary in the face of the threat of Tartar invasion and internal power struggles. After the Tartars did indeed invade and were eventually driven back, the royal couple took a vow of lifetime chastity, witnessed by Bishop Prandota. In keeping with a practice of the times which today seems extraordinary, this was intended as a votive offering of gratitude for divine protection and deliverance. However, as hagiographers note, it was also a confirmation of the life Kinga had led up to that moment.
Within this mariage blanc to which Kinga had persuaded her husband, she showed exemplary loyalty, care and prudence. Bolesław frequently mentioned in official documents that he had taken some decision on the advice of his wife. These far from customary expressions of deference and respect testify to the quality of the couple's relationship. Their shared life of chastity was not a sign of any lack of mutual acceptance; it did not mark a marriage in crisis or indicate any unfitness for married life. It was a conscious choice, not at all easy for Bolesław, as the Jesuit priest Piotr Skarga recounts in his lives of Polish saints, where he is also at pains to point out that Kinga was a beautiful and attractive woman, as confirmed by the fact that even after her husband had died and she had entered the order of the Poor Clares, she was suspected of falling into "impurity". Kinga never failed to show respect for her husband and to take care of his good name, without giving up her own path to holiness as she discerned it. In following a path which today seems at least exotic, if not incomprensible, Kinga and her husband might have been governed among other things by a contempt for the body that was common in the thought of the time. Yet the significance of their chosen manner of married life goes beyond the limits of their own understanding of it in their own times, whatever that was: they revealed the meaning of marriage as a vocation that is far more than sex and procreation.
Kinga was brought up in an atmosphere of fascination with Franciscan spirituality. Accordingly, instead of amassing treasure, she gave away her jewels and fine clothes to support the poor. But this was more than a mere side-effect of her Franciscan piety. For Kinga had outstanding organisational and economic abilities. Her activity on behalf of her subjects went beyond generous almsgiving. She had a remarkably modern way of perceiving the local economy, seeing the importance of legislation and taking a long-term view of the interests of those for whom she felt responsible. Hence the countless privileges imparted to the people of the Sądecki region; the salt mines, whose establishment, with the help of trained miners brought in from Hungary, ensured a constant income; the placing of the convent of the Poor Clares of Stary Sącz under the direct power of the Pope, which protected their property from appropriation by Leszek the Black. Kinga was also instrumental in the canonisation of Bishop Stanisław of Szczepanów. This took place in 1253 – the same year as saw the death of St Clare, foundress of the Clarist order and author of its rule. Her spirituality profoundly influenced Kinga and her circle.
St Clare was still alive when the first Clarist convent came into being in Poland. In 1245, the earlier mentioned Salomea (1212-1268), sister of Bolesław, had taken the veil and formed a community along with some nuns from Prague. Salomea, like Kinga, had lived in a mariage blanc with her husband, the Hungarian prince Koloman; they were Franciscan terciaries. After Koloman died, she returned to the court of her brother in Sandomierz and set about establishing a Clarist convent in Zawichost. This was followed by the convent founded and entered by Kinga in Stary Sącz in 1280, after her husband's death. Three years later, a third community was formed in Gnieźno by Kinga's younger sister Jolanta (1244-1298), the widow in turn of another Bolesław, known as the Pious, prince of Kalisz and Gnieźno. Salomea was beatified in 1673, Kinga in 1690, Jolanta in 1827.
Iconographic representations of St Kinga in images and figures most commonly present her as the foundress of the convent in Sącz. The convent library also contains prayers, hymns, biographies, sermons and meditations associated with the cult that developed around her, not only in the Sądecki area but also in Wieliczka and Bochnia. Here, the extremely prosperous salt mines owed their existence to Kinga's vision and practical initiative.
The move for Kinga's canonisation dates back to the mid 18th century, when Piotr Konstanty Stadnicki gave 100,000 zlotys to fund the cause. However, the work was interrupted by the partitions of Poland later in the same century and it was not until 1999 that Pope John Paul II raised Kinga to the dignity of sainthood.
by Anna Szczepan-Wojnarska*
and Jean Ward**
*Professor, University Cardinal Stefan Wyszyński, Warsaw
**Professor, University of Gdansk

Kinga

Born 1224 - Died 24 July 1292
Venerated by the Catholic Church
Beatification 1690
Canonization 1999 by Pope John Paul II
Anniversary July 24
Patroness of Poland and Lithuania