This month: Women of value
Audrey Donnithorne, and the role of lay women in the Church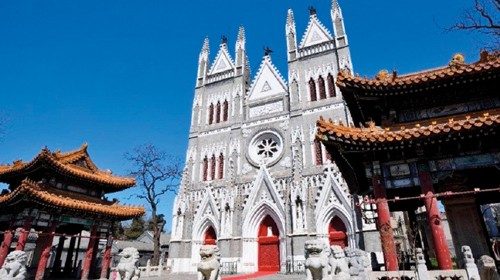 29 August 2020
As many concerned eyes were watching China's promulgation of a new national security law for Hong Kong, on June 9, the death of a woman there, whose fate was closely linked to China's recent history, was communicated with emotion. Her name is Audrey Donnithorne, who passed away at almost hundred years old. In these years, she had promoted reconciliation between the so-called official and unofficial Chinese bishops, and the respective communities of the Catholic faithful. Today, those who work in favor of dialogue between Beijing and the Vatican owe much to this Anglican convert to Catholicism who was able to combine her expertise as a brilliant economist with her feminine qualities of a capacity to listen, and her openness, patience, practical sense and tenacity.
Audrey Donnithorne was born in southwest China, but whose family was of British origin. In the course of her countless journeys around the world, it is said that this "heroine of faith" always managed to find herself in places where important events were taking place. It was in Hong Kong, however, where she decided to settle in 1985, when she retired. From then on, she dedicated the following years encouraging the economic opening of China, but also and above all the reconstruction of the Chinese Church and the Chinese Nation which the Cultural Revolution had compromised.
Hong Kong served as a base for her numerous visits to mainland China. From there she encouraged the spirit of reform which was blowing at the time. In addition, Audrey Donnithorne sought to forge ties with Catholics who were beginning to come out of their isolation and with bishops and priests who had recently been released from prison. She liked to speak about her decisive encounter with Bishop Paul Deng Jishou, Bishop of Leshan, who had suffered 21 years of forced labor. With the support in particular of the Hong Kong Caritas, Donnithorne sent prayer and song books to Chinese Catholics, helped the seminarians, and promoted the creation of small businesses to guarantee the financial autonomy of parishes in a state of poverty. Above all, she built bridges for the bishops who aspired to regain full communion with the bishop of Rome, but who had been ordained with the Chinese Patriotic Association without a mandate from the Holy Father. In 2008, the appreciation of her work became even more widespread when she created a fund for the reconstruction of churches and ecclesial structures in Sichuan, her native land, which an earthquake had destroyed.
The death of Audrey Donnithorne is an invitation to recognize her legacy and at the same time to reflect on the precious role that lay women can play in the Church.
by Romilda Ferrauto