The first Swiss Catholic military chaplain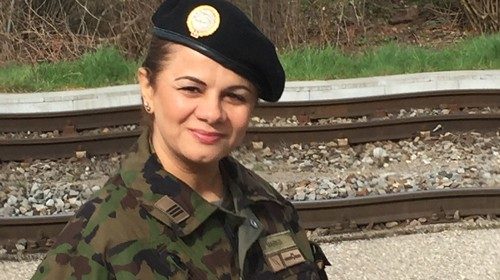 27 June 2020
Lusia Shammas has been a military chaplain in the Swiss army since 2017. Originally from Iraq, she is a naturalized Swiss citizen. She arrived in Freiburg in 1996 to study Biblical Sciences. Her mother tongue is Aramaic, but today she is fluent in English, French, German, Arabic, Italian and understands Kurdish. She created the humanitarian association Le Sourire du Prochain. She is married to the theologian Naseem Asmaroo, a priest of the Chaldean Catholic Church. Both are committed to promoting cultural and ecumenical dialogue.
I was born into a Church that had been martyred by persecution and wars. Yet, as my mother taught me, and my Church confirmed, I do not hate, even if I have had reasons to do so; instead, I accept and will carry my cross to the end. The Church has helped me to persevere in the faith. How many times have we Iraqis had to rebuild our churches and our lives without losing our joy?
I was born in a mountain village on the border between Iraq and Turkey, so it can be said that my first steps were taken along the border, between the frontiers of two countries, of two conditions. And this walking on frontiers has never stopped, as today I live in Switzerland, and I am the first Catholic woman military chaplain, and the wife of a Chaldean priest.
In Iraq my family and I had to often move, we moved continuously and we always had to start from scratch, like many other Christians there. The wars that followed one another have been our history and we had to stitch it all together again and again in order to reunite, or rather to be more precise, to perceive our roots and our sources of life, so as not to forget where we come from. I was a rebellious little girl, the eighth in a family of five boys and five girls. I had a reputation for taking justice into my own hands, for defending the weakest. One day - I was only ten - I wanted to go and play with my friends, but my father said no. Then my mother shouted: "Let her go, I'm not afraid for Lusia, even if she goes among armed troops".
Psychiatrists will tell you that one sentence can change everything in a lifetime. And from my experience it has. My mother's have had a huge impact on all my decisions. My mother also told me: "The essential thing in life is faith, everything else is ephemeral".
I saw religious women for the first time when I was 15 years old, and their life attracted me. One of the reasons for my religious vocation was that the Church gave space to women, and to strong women. In countries like Iraq, religious women play an important role in society, particularly among the poor, and those who are suffering, and offer them material support and be witness to God's grace.
In Mosul, at the time of my postulancy, my best friend was a Muslim girl who wore the veil, her name was Amal, she was a poet and she intelligent. One day someone threw stones at me in the street because I was carrying a cross, but Amal defended me.
I was, however, aware then that a form of social and cultural injustice had followed me into the convent: why did not my brothers not iron their shirts seeing that we sisters were also studying? Why did the nuns cook for the priests, and never the other way around?
When I went to Switzerland for my diploma and graduation, I started going back and forth to Iraq and engaged myself in projects to support the Iraqi population. I felt the "vocation to be a bridge" growing within me. I wanted to create a "bridge" between Iraq and Switzerland, East and West, between two Churches. It took two years -from 2006 to 2008-, to discern it with my spiritual father. At the end of the first year I understood that I would leave community life, but not the life of faith. A friend said to me: "In this way you reduce yourself to the lay state!". Those words saddened me but did not discourage me, because I felt the first vocation strongly, the one for which God had formed me since childhood, that is to create bridges and bring people together. This journey of faith has been so full of challenges yet it led me to the one who became my husband, a theologian who is as passionate about God as I am. My husband, who is an ordained Chaldean priest, is one of those very few people who celebrate the Eastern and Latin Churches bi-ritually. I also try to cross borders through the humanitarian association that I created in Switzerland in 2004, Basmat-al-Qarib, Le Sourire du Prochain, (The Smile of a Neighbor), which supports the Iraqi population.
Lived out with restlessness, my vocation to be a bridge has set me another challenge, which is to become the first Catholic woman chaplain of the Swiss army! I had never previously been interested in the army, but when I received the proposal, I told myself that this could be an opportunity for me to thank Switzerland. As a person who was always afraid when I met soldiers in Iraq, the Swiss army's specificity of being a peace promoter abroad was a revelation to me. In reality, Switzerland is not only neutral but also contributes to peace treaties. Today, as a military chaplain, I share my experience of faith and integration with young people. Along the way, I realized that I had to change my skin like a snake does. The pain of moulting in this way is necessary so as not to die of nostalgia. I understood that what matters are our sources of life, our cultures and our identity. If we irrigate our roots they can always be replanted elsewhere. I stopped looking for "a land and a country". My country became a relationship, a heart, and that has saved me.
by Lusia Shammas with Marie Cionzynska