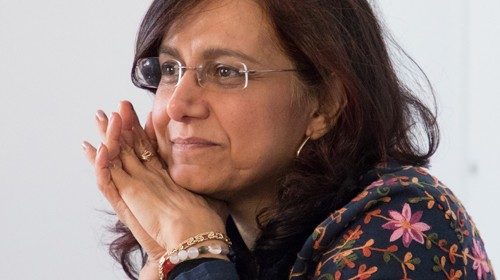 27 June 2020
Shahrzad Houshmand Zadeh, a Muslim theologian, was born in Tehran and lives in Rome. A former lecturer in Islamic Studies at the Pontifical Gregorian University, an invited lecturer in Islamic Studies at the Pontifical Theological Faculty Marianum; and reader of Persian Language and Literature at La Sapienza. She is vice president of the Women's Council of the Pontifical Council for Culture and member of the Council for Relations with Italian Islam of the Interior Ministry. She is a scientific consultant of the Interreligious Dialogue Centre of the Focolare Movement and member of the Steering Committee of the Interfaith Peace Centre, and co-president of the Religions for Peace Organisation in Italy. In addition, she is president of the Women for Dignity Association; and, co-president of the Karol Wojtiła Association. After studying at the Secular and Traditional Center of Shiite Islam in the Holy City of Qom, she specialized in Islamic Theology at the University of Tehran, then a degree in Religious Sciences at the Pontifical University of Southern Italy. In 1999, she graduated in Fundamental Christian Theology at the Pontifical Lateran University. She is on the Steering Committee of Women Church World, and mother of three children.
I had to cross a difficult frontier inside my soul, when, as a practicing Muslim, I encountered Christian spirituality. On an academic level I had already done so, I had understood the dogmatic rules of another religion, the meaning of words, but this time life was asking me to cross a wider border, something that had penetrated me and was inside my soul, almost inside my cells. I had recently arrived in Calabria from Iran, it was the end of the eighties, and I met the Focolarini, through Rita Calabrò, the volunteer who taught me Italian. They approached me in a respectful way, and with them I was introduced to a lived, loved religion. They loved Christ, they put him into practice, and they loved me. And, not only this, for they did not contrast me, they respected my religion, and I was free to talk about my intimate spirituality, my Masters, my liturgy; they understood. In them I saw an authentic spirituality, the light of God's love, and I started wondering. It was a new condition for me. In my youth I had chosen to embrace Islamic religiosity with a full conviction, I had made a conscious, free and loving choice; but now before me I saw the value of another spirituality. I spent a long time questioning myself: I was in love with the light of Islamic spirituality, I found myself confronted with the value of another spirituality, the Christian one.
I did not recognize it immediately, but at that moment the border had been crossed with the birth of a new light within me, a mystical force in my soul. It was not a conversion, simply my inner spaces widened and the arms of the soul opened even more wider to welcome life with a capital "L". I think that in the end this is God's plan for us: the Koran says that the spirit that lives in us, the Ruh, is blown into us by God, and it has the same essence as His spirit. I believe that this gift of life has made me rediscover my deep self, to recognize the spirit of God within me, without barriers. I nourished myself with the Word of God which was also manifested in the Word of Jesus, which the Koran itself recognizes and appreciates. I went through moments of spiritual discomfort, I cannot lie, but then I also understood my religiosity in a deeper and more spiritual way, in the most authentic sense of monotheism: God is always one and he is the God of Muslims, of Jews, of Christians, of non-believers, of other believers. So I overcame the obstacle, and the understanding of the deepest sense of monotheism and within my heart He came to me. One of the fruits of that encounter was the collaboration for many years with Chiara Lubich, who translated the spiritual life into a lived, concrete language to give life to the Word. While every month, from a verse of the Gospel, she chose the word to live and to send to millions of people in the world, I did the same meditation with verses from a page of the Koran every month which they translated into five languages and sent out into the world. A communion of the soul, of the sacred experience of life, a unity in the diversity between Christianity and Islam. I had already crossed other boundaries, even difficult ones, but those were external or rational. The first one when I was 15 years old. After the revolution in 1979, schools in Iran had been closed and I, at home, had begun to take an interest in religion. My parents were university professors, my mother a teacher of Psychopedagogy and director of her department, my father a geologist and engineer. I grew up among books in an open and tolerant environment, not religious as such, but rich in human values. In those days I had a personal spiritual experience, which established a very deep desire for the sacred, for the mystery of God. I thought that, perhaps, I could find that beautiful light I had felt inside in a religious environment of spiritual studies and I asked my parents to let me go to the women's institute in the holy city of Qom. It was not easy for them to accept this choice which was so different from the plans they had for me, I made them suffer a little and I still thank them for their understanding.
I had grown up in luxury, in moral and material well-being, yet there I found myself sleeping in small rooms without beds, in four, five, sometimes eight people; I ate simple food, while sitting on the floor, I shared everything with one hundred girls of which not even 1% came from my social standing. Yet I was happy, I did not notice the obstacles, I put on my veil and divided my life between study and prayer, 24 hours a day, for seven years. I was good, I helped my companions. I did not sleep more than five hours a night, and for five hours every day I prayed.
This was followed by civil study at Tehran State University, where I studied Religions and Mysticism and which seemed to be a course made especially for me. I was 21 years old when I received my doctorate, and I was the youngest.
I got married while a student, and in September 1988, I followed God's plan for me to come to Italy; driven by my sensitivity towards religion, I enrolled at the Pontifical University of Southern Italy, in Reggio Calabria. I entered a place where a Muslim had never set foot before. The director, Monsignor Vincenzo Zoccali, showed me around the classes. I wore the veil, the hijab yet everyone showed me respect and was welcoming. They all looked at this girl who had come from another world with great amazement and curiosity, from another culture, another religion and who wanted to study theirs. September 11th had not happened yet.
In the beginning it was hard, I had enormous difficulties with religious terminology, but it was not just a language problem for it was a world so far from the Eastern and Muslim traditions that I was used to. When Monsignor Zoccali, who taught the Trinitarian Mystery, drew that triangle on the blackboard, it was very difficult for me to think of breaking down the wall of monotheism that I had studied for many years. A Trinitarian monotheism? This was inconceivable for me conceptually. Just like the Eucharistic Mystery. Each term represented an obstacle, which was not only linguistic, but cultural, religious, and rational. It seemed absurd to me that these scholars put in our heads that one is equal to three? What is the sense, I wondered, of a God who is three? What is the sense of a God who makes himself blood and offers his blood to everyone? I could not cross that border. I had decided to leave, but a much older companion than me, Candida Lasco, a cardiologist at the hospital in Melito Porto Salvo, took me by the hand and explained every word to me, accompanying me step by step over the boundary of the rational study of religion.
This was followed by an enlightening encounter with the Focolarini. First the degree passed with honors, then the moving to Rome, followed by the desire to overcome another barrier. In 1997 I asked to enroll at the Pontifical Lateran University where new priests were being trained to be teachers of the Catholic religion. There had never been a Muslim student there before, and following my request they had to gather the Council to decide on whether to admit me. Yet, after everything, I made it. I received my license in Fundamental Christian Theology with top grades, with a thesis entitled Koranic Christology. I no longer see boundaries, where there is beauty there are no walls. In the Koran, darkness is in the plural, but light is always in the singular, there is only one. I feel a strong spiritual harmony with Pope Francis. When I met him, these words came from my soul: "I am his Muslim daughter".
I have made no impositions on my three children; instead, I have tried to be an honest witness. I had to fight a lot for my children, for life has shown me even its darkest and most terrifying sides. The Master of the universe guides, loves, welcomes and teaches us to welcome and expand the soul.
The last word that accompanies me inside is thank you! Shukr.
by Shahrzad Houshmand Zadeh with Federica Re David