Annalena, who is able to cross any border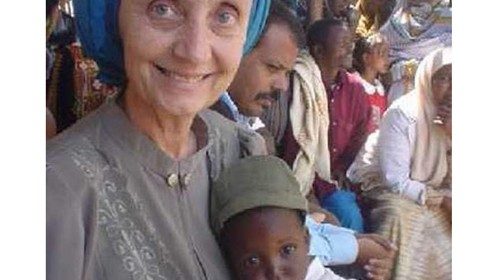 27 June 2020
Elegant in her posture, slim, shy, and with eyes so clear that they reflect her soul that is suspended between earth and sky. Annalena Tonelli has not founded movements, nor religious orders, she has not built churches or sanctuaries. Instead, with determination and tenacity she has realized her dream, which is to dedicate herself to the lowliest of the Earth. A frontier woman who is capable of crossing every kind of border, whether it be physical, religious, or cultural. And, for her thirty-four years of indefatigable service to the poor and sick in Africa she has been defined as the Mother Teresa of Somalia. A tireless woman, who has been repeatedly attacked, kidnapped, threatened, but who is always ready to start again. Hers is a "gospel of facts", of works actualized, of hospitals, and of schools. Hers is a gospel of daily and extraordinary acts, and "Dialogue with other religions is - she stresses – in the sharing. There is almost no need for words. Dialogue is a lived experience, I at least, live it this way; without words".
Born in Forlì in 1943, and after completing a law degree so as to satisfy her parents, she studied medicine at night so as to satisfy her burning desire to leave on a mission; "Since I was a child I chose to be for others: the poor, the suffering, the abandoned, the unloved, and so I was and I trust to continue to be so until the end of my life. I wanted to follow only Jesus Christ. Nothing else interested me so strongly: Him and the poor in Him. For Him I made a choice of radical poverty, even if so poor as a really poor person, the poor with whom my every day is full, I will never be able to be".
In 1970, at the age of twenty-seven, she chose Waijr, a desolate village in the Kenyan desert in the northeast, where, among the strictly Muslim nomadic tribes, Annalena taught children and cured the sick, combatting tuberculosis, AIDS, illiteracy, blindness and female mutilation. As a young, white, unmarried Christian woman, she fought against many prejudices.
Expelled from Kenya for having managed to photographically document the government army's massacre of a tribe, she returned to Italy, retreating to the Umbrian and Tuscan hermitages.
After a year she was back in Africa, this time in Somalia, in Borama, where she founded a hospital with 250 beds for tuberculosis and AIDS patients, as well as a school for deaf and disabled children. The powerful locals decided to kill her, but her patients paraded in front of the head of the village asking him to save her life. On 15 October 2003, on leaving her hospital, she was executed with a gunshot wound to the back of the head. Annalena Tonelli, 60 years old, thirty-four of which were spent in Africa, was buried in Waijr, as was her wish, and even today the desert nomads tell her story.
by Elena Buia Rutt