Prayers for an end to the pandemic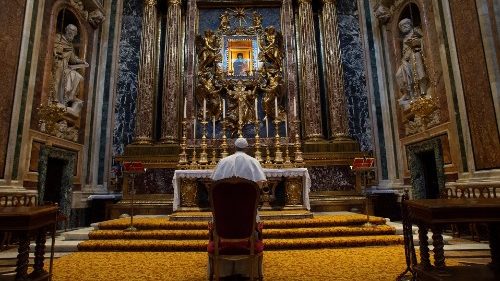 Pope visits two pilgrimage sites in Rome: Saint Mary Major and San Marcello al Corso
20 March 2020
On Sunday afternoon, 15 March, the Pope went on an unexpected pilgrimage to two places of symbolic importance for Rome: the Basilica of Saint Mary Major and the Church of San Marcello al Corso, to pray for an end to the Covid-19 pandemic. In both places the Holy Father invoked the end of the pandemic that is striking Italy and the world and prayed for the healing of the numerous sick and for the victims, asking for comfort for their families.
Pope Francis left the Vatican at around 4:00 pm and went to Saint Mary Major where he was welcomed by the Archpriest Cardinal Stanisław Ryłko and the Dominicans who preside liturgical celebrations at the Church. He then headed to the Basilica's chapel where the icon of the Virgin, Salus Populi Romani is kept. There the Holy Father offered flowers to the Virgin, before praying in silence before the Marian image.
The Holy Father then proceeded on foot to the Church of San Marcello in Rome's city centre. After offering flowers, Pope Francis prayed at the foot of the miraculous wooden Crucifix that had been carried in procession through Rome's streets in 1522, to invoke an end to the great plague. This crucifix remained intact even after a fire broke out in the Church. At about 5:30 pm, the Holy Father headed back to the Vatican by car.
---