Pope Francis' video message to those who participated in wyd 2023
Missionaries and witnesses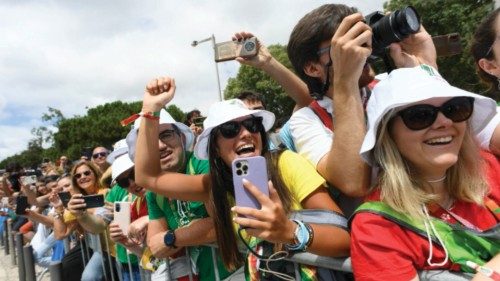 15 September 2023
"Be missionaries, be propagators, be witnesses of that which you have experienced. And thank you, thank you for the witness you gave. And now it is your turn to be witnesses". This is the mission Pope Francis entrusted to young people who participated in World Youth Day 2023, in Lisbon last August.
In a short video message recorded on Friday morning, 8 September, during the Pope's audience with Cardinal-elect Américo Manuel Alves Aguiar, Auxiliary Bishop of Lisbon and President of the wyd Lisbon 2023 Foundation, the Holy Father addressed the young men and women who were in Lisbon. He described the wyd experience as "a memory that is not meant to be locked away or left in a photo album". Indeed, "it is a living memory" and you must keep it alive", Pope Francis stressed.
But "how is something kept alive?". The Pope's answer is: by "transmitting it, giving it to others. A family stays alive through the kids, who carry the family forward, and the parents then become grandparents. But always alive".
"All of you, this memory which you experienced, ... do not 'anaesthetize' it; do not put it in an album of past memories. Alive", the Holy Father emphasized, offering the young people suggestions of how to bear witness: "talk about it in college, talk about it at school, talk about it at work, talk about what you have experienced, what you are experiencing, of that crowd of more than 1.5 million people who were there, and above all, of what you felt".
At the end of the video, Pope Francis asked God to bless the young people, Our Lady to protect them, and young people to pray for him.