The opportunity to experience unity in Christ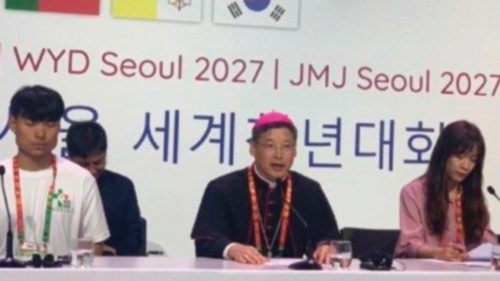 11 August 2023
Archbishop Peter Chung Soon-taek of Seoul expresses his joy and hopes over the announcement on 6 August of the South Korean capital hosting the 2027 World Youth Day. He says it will offer a new "taste" and a great opportunity to experience unity in Christ.
From Lisbon
Alessandro Di Bussolo &
Francesca Merlo
Your Excellency, the first question I'd like to ask you is how you lived this experience of World Youth Day in Lisbon, knowing that in 2027 the next World Youth Day will be in Seoul?
Actually, this World Youth Day is a great opportunity for all of us because although the culture and language are different, we can feel we are the same, God's people; we are one. So this World Youth Day is a great opportunity to feel this kind of unity in Christ. Next time in Korea, maybe those who come to Korea will taste Korean culture, a different taste, but they also will feel the unity in Christ. That would be a great opportunity and time for grace.
Even though we're speaking about 2027, the preparations I imagine will begin very soon. What will that involve? And how do you plan on bringing this unity that you described here in Lisbon to Korea?
At this moment it is not easy to respond, but we have to discuss and we have to pray, and maybe we will try to find some way to bring this unity to Korea.
On a practical note, what are some of the aspects that really worked well in this occasion in Lisbon that you might want to replicate?
At this 2023 Lisbon World Youth Day, I found many volunteer workers. They worked very hard and with full dedication. That would be a great help for this World Youth Day. So in Korea also, we would like many Korean people, not only youth, but also all Korean people to be invited to work together, to collaborate together as volunteer workers. They will be a great help for this World Youth Day to make it successful.
In terms of the Church in South Korea, Catholicism is a minority, but what does hosting World Youth Day mean for the Church?
This World Youth Day can offer a good opportunity to upgrade our youth ministry in Korea. As I mentioned before, after the Corona [virus] pandemic for three years, the youth ministry became very difficult in Korea. So preparing the next World Youth Day, we would like to take advantage of some kind of upgrade of Youth Ministry in Korea, inviting young people, not only the participants, but also the protagonists to prepare all of Youth ministry. That means during this preparation for next World Youth Day, young people in Korea will become a young leader in the Church and in society. We will accompany them to grow into young leaders.
How can this strengthen perhaps the relationship with the faithful of other religions, especially in neighbouring countries, in other Asian countries, how does it affect the continent?
Actually, hosting this World Youth Day in Korea, not only Korean people, but also all Asian people will be very happy with this. So we Korean bishops and Korean Church will share this opportunity and we will discuss with other countries. Also we would like to invite them.
And just finally, maybe a message to the young Koreans who have just found out this news, especially the ones who are here?
Now World Youth Day is a great opportunity for young people in Korea and young people in the world. So during the preparation for the next World Youth Day, young people will become young leaders in the Church, young leaders in society. So you are welcome and you are invited. Come and taste and let's work together. Let's prepare together for the next World Youth Day.