Athletica Vaticana at the World Cycling Championships in Glasgow
The athletic World Youth Day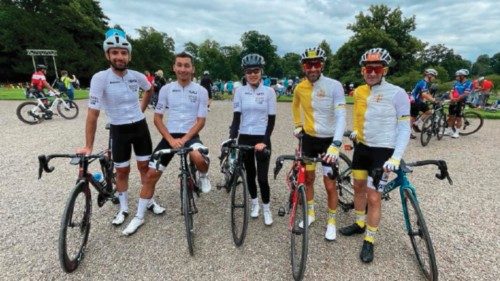 11 August 2023
The news is not that Athletica Vaticana participated in the World Cycling Championships in Glasgow on Sunday, 6 August — despite a breakaway from Rien Schuurhuis.
The news is that in Glasgow, where the inclusive cycling championships, including the Paralympics, are underway, there was proof that Pope Francis' vision of sports is concrete and possible — even at the highest levels of a sport as popular as cycling. The communion with the Pope and young people in Lisbon was made possible because Athletica Vaticana did not go to Scotland just to cycle but to experience a unique sporting World Youth Day. The real "medal" to be won is to grow as a person and as a sporting community that bears witness to the Holy Father's fraternal, inclusive, spiritual and solidary vision, with humility and simplicity.
The news is that on Friday, 4 August, during the "Gran Fondo" race which is also open to amateurs, Vatican team members Rino Alberto Bellapadrona and Marcus Bergmann slowed down to help Masomah Ali Zada, a refugee athlete from Afghanistan, sharing their water with her and accompanying her to the finish line. The 27-year-old cyclist of Hazara origin who had also participated in the Tokyo Olympics, is one of the five athletes who make up the Refugee Team supported by the International Cycling Union.
The news is also that on the eve of the Championships, Vatican cyclists met poor and fragile people from Ozanam Centre, an event organized by the Archdiocese of Glasgow.
The news is also that Vatican cyclists celebrated Holy Mass with the Catholic community of Glasgow because the meaning of this whole sporty experience is precisely Christian faith.
The news is also that Athletica Vaticana met the extraordinary athletes of the Italian Paralympic Handbike team.
And lastly, the news is that the bike — donated by Pinarello — on which Rien Schuurhuis competed will be sold at auction, and the proceeds will be entirely donated to the Vatican's Paediatric Dispensary of Santa Marta.
At the General Audience on Wednesday morning, 9 August, a group of Athletica Vaticana cyclists who participated in the race in Glasgow, presented the bicycle to their "team captain", Pope Francis, who autographed it.
Giampaolo Mattei