Pilgrim of Hope in Lisbon city of encounter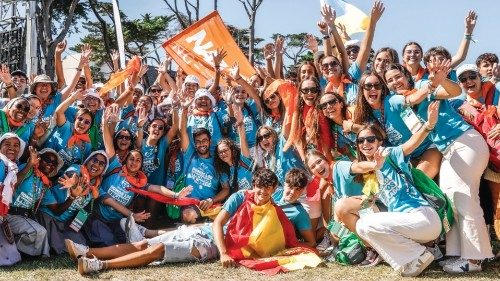 04 August 2023
Pope Francis arrived in Lisbon, Portugal, on Wednesday morning, 2 August, to begin his 42nd Apostolic Journey abroad.
As is customary, the Pope sent telegrams to the Heads of State of the countries over which he flew on his way from Rome to Lisbon: President Sergio Mattarella of Italy, President Emmanuel Macron of France and King Felipe vi of Spain.
Addressing journalists and other members of the press aboard the ita Airways flight with him, the Holy Father joked about the trip, saying he would return "more rejuvenated".
The papal plane left Rome at around 8 a.m., local time, and landed in Lisbon's Figo Maduro Air Base at 9:43 a.m., local time. There began the Pope's five-day journey, which includes several World Youth Day celebrations and a visit to the Marian sanctuary in Fatima.
The President of the Republic of Portugal, H.E. Mr Marcelo Rebelo de Sousa, warmly greeted the Pope on the tarmac. After a brief welcome in the vip lounge of the air base, the President and the Pope were driven to the Palácio Nacional de Belém for the first public events of the trip.
On Wednesday morning, before leaving Rome, Pope Francis had welcomed a group of 15 people at his Vatican residence in Casa Santa Marta. Among them were young men and women currently living in a rehabilitation community who, for this reason, were unable to travel to Lisbon for World Youth Day. Also present were three grandparents with their grandchildren. Like the recently celebrated World Day for Grandparents and the Elderly, this gathering in the Pope's home highlighted the bond between generations, which are called to support and learn from one another.
On Monday evening, 31 July, Pope Francis paid a visit to the Basilica of Saint Mary Major in Rome, to pray before the icon of Our Lady Salus Populi Romani, entrusting to her his trip and the many young people participating in World Youth Day.
For coverage of the first
three speeches of the Pope
in Lisbon see pages 2-8