Leading the team in solidarity and 'first evangelization'
A cricket match with children in Kenya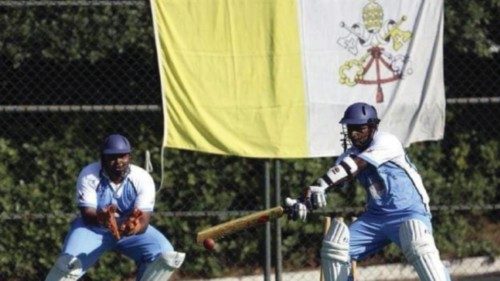 07 July 2023
What does it mean to be part of a cricket team? More specifically, what does it mean to be part of a cricket team composed of priests, deacons, and seminarians from different countries, studying in Rome?
To answer the first question, one must understand what cricket is. Cricket is a game played by two 11-person teams over a period of time (the version of the game we play lasts about 4 hours) using a bat and ball. Originally popularised by the English, the game spread through the British colonies. Through migration, the game continues to spread and reach non-traditional cricket playing nations such as Spain and Italy. This background means cricket is a "gentleman's game" — played with a spirit of sportsmanship and comradery that is different from most physical games. The game is naturally relaxed being played originally by the English upper class who could afford to play the game for long periods of time.
It is this background that makes cricket a perfect game for the Vatican sports team. As the game is more relaxed, it allows us to represent the Church and the priesthood in an amicable manner. We are priests, deacons, and seminarians first, cricket players second. We aim to go to the peripheries; to bring an experience of the Church to many people who have never met a priest.
Initially started as an ecumenical initiative with the Anglicans, the Vatican Cricket Team has expanded to play teams outside a religious sphere. Yet the mission is the same — we hope to provide a "first evangelisation," where people's hostile or apathetic attitudes to the Church are transformed into something positive. We aim to break down barriers that people might have within themselves that make them resistant to the Church or to Christ. We aim to play the game with the spirit of Christ, playing well but fair. We are not professionals but aim to be respectable and competitive in the games that we play. We play to win but with the spirit of men who are men of Christ and are formed in prayer and service.
I have been part of the team for four years now and have really treasured the experience of representing Christ and his Church through sport. I have travelled to Kenya, Malta and will travel to Spain as part of the 9th Light of Faith Tour. I have seen how cricket can be the vehicle to break down barriers that society puts up against the Church's missionary mandate. With cricket, those barriers are broken because people see us as human persons first, who, like them, enjoy sport and enjoy having fun. They see us play the game in a different manner, as those animated by Christ.
This is why people want to have a conversation with us during or after the game. This is something simple, but effective. People are naturally curious, and are amazed at seeing so many young men who play sport also be men willing to give their lives up for the sake of others in the priesthood. We hope and pray that the little that we do through cricket can be the initial step in a journey towards Christ and his Church.
* Captain of the Vatican Cricket Team; priest of the Archdiocese of Sydney, Australia; student at the Pontifical University of the Holy Cross
By Fr Bijoy Joseph *