Pope receives Brazil's President Mr Lula da Silva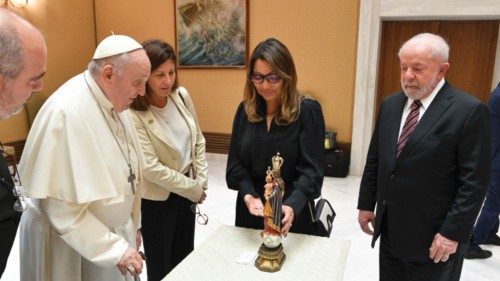 23 June 2023
The Holy Father and Brazilian President Luiz Inácio Lula da Silva met on Wednesday, 21 June, to discuss various shared concerns such as peace, poverty, inequality, and the environment.
The meeting saw a positive exchange of views between the two leaders, particularly on the promotion of peace and reconciliation. To underscore the importance of peace, Pope Francis presented Lula with a bronze sculpture bearing the inscription: "Peace is a fragile flower".
It was also confirmed that during their conversation, Pope Francis and President Lula emphasized their shared missions of environmental protection and respecting indigenous peoples. The meeting highlighted the Brazilian President's pledge to end illegal deforestation in the Amazon by 2030.
During his brief visit to Rome, Lula also met with several Italian leaders, including Prime Minister Mrs Giorgia Meloni and President Mr Sergio Mattarella.