Audience with the 'ad interim' Prime Minister of Lebanon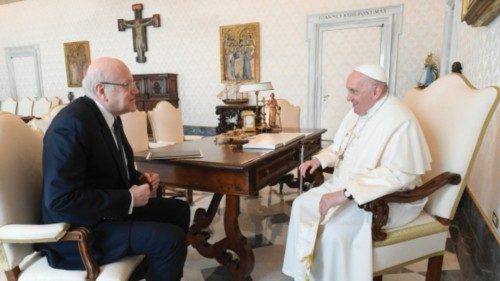 24 March 2023
On Thursday, 16 March, the Holy Father received in audience H.E. Mr Mohamad Najib Mikati, ad interim Prime Minister of Lebanon, who subsequently met with Cardinal Secretary of State Pietro Parolin, accompanied by Archbishop Paul Richard Gallagher, Secretary for Relations with States and International Organizations.
During the cordial discussions, which took place in the Secretariat of State, the Holy See's concern regarding the difficult socio-economic situation faced by the Lebanese population, aggravated by the current institutional stalemate of the country as it urgently awaits the election of a new President of the Republic, was reiterated.
While emphasizing the importance of the inalienable presence of Christians in Lebanon and throughout the Middle East, the need to strengthen peaceful coexistence among Lebanese of different faiths, in order to guarantee peace and stability for the entire region was also highlighted.