To Catholic youth at the 2023 Flame Congress in Wembley Arena
'Dare to be different'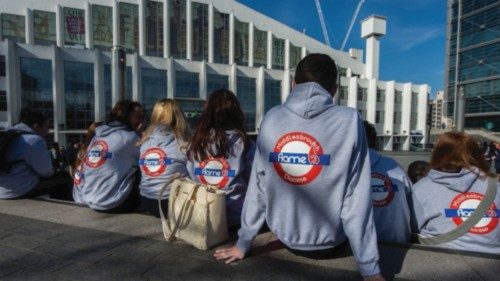 10 March 2023
Pope Francis addressed a message — signed by Secretary of State Cardinal Pietro Parolin — to young people gathered in Wembley Arena on Saturday, 4 March, for the 2023 Flame Congress, the largest Catholic youth event in England and Wales, promoted by the Catholic Youth Ministry Federation ( cymf ed).
Addressing Fr Dominic Howarth, the president of the Congress planning committee, Pope Francis assured the estimated 10,000 young people present of his spiritual closeness and prayer, and his hope that "through adoration, music, testimonies and the sharing of friendship with Christ and with one another, all present will grow strong in faith and love and bear witness courageously to the Gospel message". To help them on this path, the Holy Father offered the example of the Blessed Virgin Mary, and referred to his Apostolic Exhortation Christus Vivit, encouraging Catholic youth to "dare to be different, to point to ideals other than those of the world, testifying to the beauty of generosity, service, purity, perseverance, forgiveness, fidelity to our personal vocation, prayer, the pursuit of justice and the common good, love for the poor, and social friendship" (36).
This year's theme — "Rise Up!" — was inspired by the theme for World Youth Day Lisbon 2023, which will take place from 1 to 6 August. The theme for the upcoming event is taken from the Gospel of Luke: "Mary arose and went with haste". The event organisers describe it as an invitation, especially in the wake of the pandemic, to young Catholics to get back up and embark on the surprising and beautiful adventure of the faith.